The Role of Business in the Water-Food-Energy Nexus: Canadian Water Summit Comes to Calgary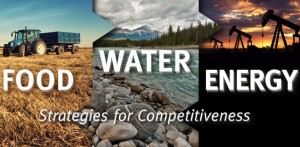 By: Meirav Even-Har, Toronto
The interconnectedness of energy, water and food has been the prime focus of international discussions this year. In March, the UN's Food and Agriculture Organization (FAO) organized the 10th annual World Water Day, with the theme of Food and Water Nexus. Energy is a third and important component because to produce food, we need both water and energy. A connection can be easily drawn: to produce energy we need water, and to clean and deliver water for livelihood and food production, we need energy. Hence, we have the Water-Food-Energy Nexus.
"The World Economic Forum has identified the Water-Food-Energy Nexus as a risk where a rapidly rising and urbanizing global population is putting unsustainable pressures on resources. Demand for water, food and energy is expected to rise by 30-50% in the next two decades," notes Dominic Waughray, Senior Director and Head of Environmental Initiatives, World Economic Forum.
To discuss this Nexus as it relates to corporate Canada, the third annual Canadian Water Summit is making its début in Calgary, Alberta. A province rich in oil and gas, Alberta is also known for its crop and livestock production. As for water, Southern Alberta is one of the driest in the country. A major energy and food exporter, Alberta is primed for this sort of gathering to explore the risks and opportunities that come with growth and limited water.
Lorne Taylor, Special Advisor, Alberta WaterSMART and Canadian Water Summit Chair, notes Alberta is "a growing jurisdiction with major agriculture and energy industries and growing cities; we have areas of water abundance and those of scarcity and most importantly; we have lessons and experiences from which the rest of Canada and North America can benefit."
The economic growth that Alberta has been experiencing over the past five years has been tremendous, driving seasonal and permanent migration to western Canada. But that growth comes with a price. For Alberta that means, "balancing competing water needs of cities, agriculture, energy and ecosystems." Water for all, is especially a "hot topic" in Southern Alberta due to a 2006 moratorium on new water permits from the South Saskatchewan River Basin. No new water permits give out in the most populated region in the province makes the conversation that much more urgent.
Then there's the oil sands, an often-tough topic to discuss in a room full of businesses that understand that where there's demand, supply surely follows, even if the source is less than ideal. In a conference for business about water, quality issues will expectedly surface. A recent 3,000-barrel spill of light sour crude into a tributary of the Red Deer River in west-central Alberta has further fueled public concern over the expansion of pipelines in the province and south of the border. Since the Northern Gateway and Keystone XL projects continue to make headlines in Canada and abroad, having a candid conversation about the risks posed by oil sands development to water resources is paramount.
For Taylor gathering business around the theme of water makes sense. "... I have been passionately involved with water initiatives throughout Alberta for many years and believe that it is one of the most important and undervalued economic inputs."
The Canadian Water Summit takes place in Calgary, Alberta June 28, 2012. To learn more visit http://www.watersummit.ca/
CWS Speakers include:
•Dominic Waughray, Senior Director and Head of Environmental Initiatives, World Economic Forum
•Richard Connor, Lead Author of the World Water Report and Chief Science Officer, Unisfera
•The Honourable Diana McQueen, Minister of Environment and Sustainable Resource Development, Alberta
•David Marshall, Chair, Canada Wide Water Strategy, Canadian Water Resources Association
And more...
###
NOTES
Innovolve Group: Canadian Water Summit, Newsletter
Innovolve Group: Canadian Water Summit, Newsletter
Innovolve Group: Canadian Water Summit, Newsletter
Financial Post: Plains Midstream reports second oil spill in Alberta
http://business.financialpost.com/2012/06/08/pipeline-company-reports-oi...
Innovolve Group: Canadian Water Summit, Newsletter
Image: Canadian Water Summit website banner, Courtesy of The Innovolve Group