The Socially Responsible Harvest That Loves Wonky Food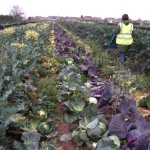 It may come as a surprise to many people, but a lot of food is wasted simply because it is wonky; that is, it doesn't meet the aesthetic expectations of urbanites who've never seen a real carrot or apple. Real food actually is not glossy or perfectly shaped, but often tastes better and has a higher nutritional content.
Tomorrow (Saturday 3), campaigners in the UK will take part of a gleaning event in Broadstairs, Kent at Geoff Philpott's farm when they will pick over a ton of cabbages that would otherwise go to waste because they fail to meet the strict cosmetic standards laid down by supermarkets. It's good, healthy good that would ordinarily be wasted.
Gleaning is a traditional practise dating back to medieval times, which consists of gathering crops that would otherwise be left in the fields to rot. (Check out this clip from a film by French film director Agnes Varda, which is precisely about gleaning.)
The event has attracted support from Laura Sandys, MP for South Thanet, who has been campaigning to prevent produce from going to waste. It has been organized by Tristam Stuart and the Feeding the 5000 campaign in partnership with food redistribution charity FareShare. Volunteers will rescue the vegetables and ensure they are distributed to a range of charities.
"Thousands of tons of fresh produce remain unharvested in UK's farms every year, either because they don't meet the strict retail cosmetic standards or because of overproduction. Even small amounts of these crops could help feed thousands of people," said Stuart.
In fact more than a third of the world's entire food production is currently wasted, contributing to rising food prices, resource overuse and global warming. Rich countries like the UK currently waste up to half of their food supplies. Shockingly, an estimated 20-40% of U.K. fruit and vegetables are rejected even before they reach the shops as they don't match supermarkets' strict cosmetic standards while more than four million people in the U.K. suffer from food poverty.
The event on Saturday is the first of a series of pilot gleaning events organised by the Feeding the 5000 campaign with a view to establishing a Gleaning Network to coordinate volunteers, growers, and distribution charities to salvage unwanted produce. The campaign's aim is to raise awareness about the high levels of food waste in the U.K. FareShare rescues surplus food from the food industry and delivers it to a network of 700 local charities across the U.K. that use it to feed vulnerable people who may otherwise not eat a square meal. It feeds 35,500 people on a daily basis.
Image credit: Feeding the 5000