The STOCK Act: Making Congress Play Fair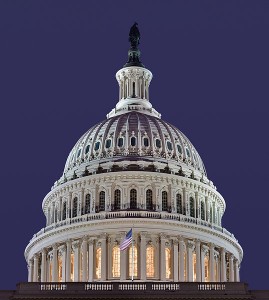 "The American people need to know that their elected leaders play by the exact same rules that they play by. They also deserve the right to know their lawmakers' only interest is what's best for the country, not their own financial interests." -- Senator Kirsten Gillibrand, December 1, 2011
On December 1, Senator Kirsten Gillibrand (D-N.Y.) testified for the U.S. Senate Committee on Homeland Security and Governmental Affairs Hearing on "Insider Trading and Congressional Accountability." She addressed the STOCK Act, a bill that she introduced that would allow members of Congress to be prosecuted for insider trading.
"Like millions of Americans all across the country, I was surprised to learn that insider trading by members of Congress, their families, or their staff, using non-public information gained through their Congressional work is not clearly and expressly prohibited by law and the rules of Congress," Sen. Gillibrand told the committee.
THANK YOU, 60 MINUTES
Her testimony came just a few weeks after 60 Minutes aired a segment about members of Congress enriching themselves through insider information without fear of prosecution. Before the story aired on November 13, H.R. 1148: Stop Trading on Congressional Knowledge Act (STOCK Act) had just four House sponsors. Now, the bill has over 170 House sponsors. Sen. Gillibrand and Sen. Scott Brown (R-Mass.) have both introduced versions of the House bill into the Senate. The original House bill was introduced by Rep. Louise Slaughter (D-N.Y.) in 2006.
The STOCK Act aims to "prohibit commodities and securities trading based on nonpublic information relating to Congress" and to "require additional reporting by Members and employees of Congress of securities transactions." It would also require the Commodities Future Trading Commission (CFTF) and Securities and Exchange Commission (SEC) to establish rules banning insider trading, require lawmakers to publicly report trades greater that USD 1,000 within 90 days and require those who gather political intelligence from the federal government to register as lobbyists.
"Thousands of people across the country have been peacefully protesting to break the intimate relationship between Wall Street and Washington, D.C.," said Rep. Slaughter in testimony on Tuesday. "Enacting the STOCK Act will prove that Congress is capable of reforming its internal operations and will help ensure members are held to at least the same standards as everyone else when it comes to insider trading."
GET ETHICAL OR FUEL THE PUBLIC'S IRE
Unsurprisingly, especially considering the sorry state of the American economy and the widespread distrust that the American people have for their elected officials (according to a Gallup poll, Congressional job approval was 13 percent last month, tying its all-time low), the STOCK Act has been accumulating popular support. Rich Smith, an individual investor and member of the Motley Fool, a multimedia financial services company, for example, set up an online petition on Change.org urging the Senate to pass the bill.
"In some cases, members of Congress have been clocked at 12% annual outperformance of the S&P 500," writes Smith. "Warren Buffett, during his tenure as head of Berkshire Hathaway, only managed 10.8%."
One signatory to Smith's petition, Douglas Fraser, writes, "As an individual who has no pension ahead of me and who relies purely on the investment of my own savings to secure a financial future, I find it abhorrent that my position in the markets may perform adversely directly as a result of insider trading by the very people whose job it is to look after the interests of the American public." He's not alone. Smith's petition has over 3,600 signatures, with a goal to reach 5,000.
The American historian and Pulitzer Prize-winner James MacGregor Burns, a professor emeritus at Williams College, once said, "Divorced from ethics, leadership is reduced to management and politics to mere technique." The passage of the STOCK Act will help to ensure that Capitol Hill isn't filled with managers and technicians, but ethical servants of the people. And if Congress is to regain the trust of the people whom they serve, this act must be passed.
###
NOTES
http://gillibrand.senate.gov/newsroom/press/release/senator-gillibrand-testimony-on-insider-trading-and-congressional-accountability
Ibid.
http://www.usatoday.com/news/washington/story/2011-12-06/insider-trading-bill-congress/51683824/1?csp=34news
http://www.govtrack.us/congress/bill.xpd?bill=h112-1148&tab=summary
Ibid., 3.
Ibid.
http://www.gallup.com/poll/150728/Congress-Job-Approval-Entrenched-Record-Low.aspx
http://www.change.org/petitions/pass-the-stock-act-4
Ibid.
image: The dome of the United States Capitol building (credit: Diliff, Wikimedia Commons)