Thermo Fisher Wins Award for Social Contribution to Massachusetts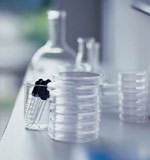 It's a happy time at Thermo Fischer Scientific. The company has received a silver award from the Massachusetts Alliance for Economic Development (MassEcon) for its contribution to help stimulate the Commonwealth's economy "through expansion, investment and community involvement". Thermo Fischer won silver in the northeast region category.
Recently, the company opened its new Center of Excellence in the region, in the town of Tewksbury, focused on research, development and manufacturing of portable analytical instruments. The company invested $20 million into the 156,000 square foot facility, and adapted an existing building.
Besides investments and expansion, the company is also focused on sustainability through waste reduction programs and supporting community initiatives in the region.
"Our Commonwealth provides companies with unprecedented access to talent, investment and innovation that supports growth in life sciences and biotech," said Dan Shine, president, chemical analysis, Thermo Fisher Scientific. "We're pleased to be able to give something back through our new Center of Excellence."
Runners-up competed regionally based on their job growth, facility expansion, investment and community involvement since January 1, 2011. The awards luncheon is scheduled to take place on November 20, 2012, at the Seaport Hotel in Boston. Governor Deval Patrick will feature as guest speaker.
"The key to our economic recovery is innovation, and these Team Massachusetts Impact Award winners exemplify that innovative spirit," said Greg Bialecki, the Secretary of Housing and Economic Development.
Image credit: Thermo Fisher Scientific