Thomson Reuters Adds New Presence to Sustainability Internet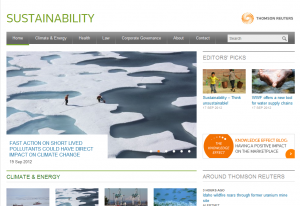 The sustainability internet has gotten bigger. Thomson Reuters, the global provider of information for businesses and professionals, has launched a new website called Sustainability. The website features relevant information from Thomson Reuters as well as partners (including 3BL Media) to facilitate a dialogue between customers and citizens who are working for a sustainable future for their businesses and communities.
With a clean, minimalist design, Sustainability provides perspectives on a range of energy and environmental issues, including news articles, analysis and opinion editorials. Content will be pulled from a range of sources, including news from The Thomson Reuters Foundation and the company's own sustainability and CSR efforts. Also, it will aggregate news from external sources.
"Focusing on sustainability is good business," said James C. Smith, Thomson Reuters's CEO. "This new Thomson Reuters website encompasses a broad range of issues, products and practices concerning the environment, economies, corporate citizenship and risk management. It is intended to serve and encourage sustainability initiatives across the global community of professionals." Thomson Reuters said that, after the initial launch phase, it intends to include tools and other resources to Sustainability.
Sustainability is the consolidation of the company's offerings in the field of CSR and sustainability. Thomson Reuters has a long track record in information and insights to clients in their efforts to comply with regulations and sustainable growth. Among its sustainability clients are BoardLink, Asset4, Accelus, World-Check, Point Carbon and Lanworth.
The launch of the website signals an increasing awareness that sustainability makes business sense and increases returns that beat global benchmarks. Bloomberg this week wrote that companies that invest in sustainability by becoming more resource efficient and socially responsible tend to perform better. Besides, these companies' management teams tend to be more forward thinking and innovative.
Image credit: Sustainability