Tim Hortons' Coffee Partnership: Corporate Meets Grassroots to Drive Sustainable Coffee Production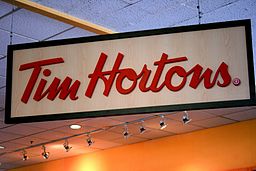 By: Meirav Even-Har, Toronto
A Tim Hortons cup of coffee has become a standard symbol of Canada akin to the beaver or hockey. For a company with over 4,000 stores in five countries, most of which are franchised, CSR is complex and mostly grassroots driven. Since every eight out of ten cups of coffee sold in Canada is Tim Hortons, sustainable coffee bean sourcing has been a key issue for the company-and for the entire coffee industry.
At a May 17th Toronto Sustainability Speakers Series (TSSS) event, Tim Faveri, Tim Hortons Director of Sustainability and Responsibility, spoke about the company's community investment and environmental initiatives. Presenting to a packed room, Faveri described the coffee supply chain as a "complex web" made of growers, suppliers and buyers. Between the farmer and the consumer, the coffee passes through a lot of "hands." In 2005, Tim Hortons established its Coffee Partnership program, which provides farmers training in agronomy, sponsors youth leadership programs, and supports housing in coffee growers communities, to name a few.
The Coffee Partnership caught my attention for its authentic, grassroots approach to supply chain management. Making a True Difference is Tim Horton's internal brand for CSR, and is well represented in the Coffee Partnership program. What makes the program authentic and sets it apart from similar partnerships is that engagement is not conditional on securing business. In other words, program participants may chose to not sell the beans to Tim Hortons. It is up to them. The program's goals are well in line with its mission: to help small-scale farmers (farm size of five to ten hectares) "improve their coffee business and their lives."
Coffee Partnership programs focus on three pillars: improving economic, social and environmental factors that affect coffee growers. The economic pillar is about making coffee farmers better business people. Coffee farmers learn skills to help increase the quality and yield of their coffee crops, such as technical training in agronomy and farm management. 10,733 technical training demonstrations were performed in 2011 alone. On average, each farmer participated in more than six sessions. Under its social pillar, youth leadership plays a central role. Programs for youth are focused building community leadership skills, in partnership with Junior Achievement.
The third program pillar is focused on environmentally responsible coffee farming through education. Training is provided on issues such as the value of shade and biodiversity, eliminating the use of banned pesticides, as well as prevention of soil erosion. Water is also an important subject to coffee farmers. Training sessions include: water pollution prevention, conservation and recycling techniques.
There are Coffee Partnership projects in Colombia, Brazil and Trifinio Region (specifically, Guatemala and Honduras). According to Tim Hortons' 2011 Sustainability and Responsibility Report, from 2009 to 2011 an average of 1,400+ farmers participated in Coffee Partnership programs.
To learn more about Tim Hortons Coffee Partnership program click HERE
The Toronto Sustainability Speaker Series (TSSS) is widely recognized as Canada's premiere forum for dialogue and problem solving among sustainability professionals.  Please click here to learn more.
###
NOTES
Tim Hortons Coffee Partnership http://www.timhortons.com/ca/en/difference/coffee-partnership.html
Tim Hortons 2011 Sustainability and Responsibility report http://sustainabilityreport.timhortons.com/index.html

Image: A Tim Hortons Sign, By miss_rogue (CC-BY-SA-2.0), via Wikimedia Commons