Timbercreek Gives through Habitat for Humanity's ReStore Program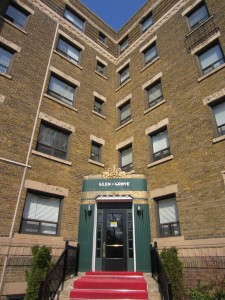 By: Meirav Even-Har, Toronto
What do you do with furnishings from a 63-suite apartment building? If you're Timbercreek Asset Management, you call Habitat for Humanity. What started as a challenge turned into a fruitful partnership that contributes to affordable housing projects, and helped a renovation project to get a smooth start.
The Toronto-based real estate investment and management company has long been a partner of local charities that contribute to the communities where its residents live. Speaking about the company's community giving, Colleen Power, Executive Director of Marketing, at Timbercreek explains: "We focus our energy on charitable events at a community level. We think of our properties as having a community within each building."
A mutually beneficial solution
But in the case of 2837 Yonge Street, Toronto, the building is vacant and Timbercreek its new owner. Formerly a short-term suite and condominium residence, the building features 63 units, three offices, a computer room and a gym - all fully furnished. "The entire content that came with the building and the rooms was ours. We needed to figure out the best way to deal with it." Power explained the company is doing extensive renovation to the entire building in order to have units for lease by early 2013.
Timbercreek has partnered with the Habitat for Humanity ReStore program to make sure all the furnishings and supplies were put to good use. The content donated by Timbercreek has an estimated value in the range of $10,000-15,000. "Habitat for Humanity brought a team of volunteers to help with the task of taking out the content," says Power. In three days the building was empty and ready for renovations to begin.
What is ReStore?
From home furnishings to appliances, Habitat for Humanity's ReStore locations offers a socially and environmentally conscious choice. With 74 retail stores across Canada, consumers have the opportunity to purchase new, gently used or customer returned products that would otherwise end up in a landfill. "In 2011, ReStores across Canada diverted over 20,000 tonnes of material from landfills," reads the Habitat for Humanity website.
Profit generated by ReStores is allocated towards funding the local Habitat affiliate that operates the store. Why? ReStore profits help to cover administrative fees. As a result, money raised by conventional means - through individual and corporate giving - can go directly towards building families in need affordable housing.
"Timbercreek couldn't be more pleased with the partnership thus far. As a property manager of over 120 multi-residential buildings in Canada, Timbercreek's roots and core values lie in providing good quality homes and living conditions to our residents. With that, our partnership with Habitat for Humanity is strong given that we share similar values."
To learn more about Habitat for Humanity Canada, visit http://www.habitat.ca/
To learn more about Timbercreek Asset Management, visit http://www.timbercreekfunds.com/
###
NOTES
Habitat for Humanity: ReStore (webpage) http://www.habitat.ca/restore-p7376.php
Ibid
Image: Glen Grove Suites, Courtesy of Timbercreek Asset Management