Tracking Green Investment: Green Transition Scoreboard Gives Insights into Global Trends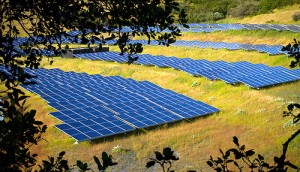 By: Meirav Even-Har, Toronto
As of July 2012, $3.6 trillion USD has been invested globally by the private sector since 2007. The Green Transition Scoreboard® (GTS), by Ethical Markets, tracks global private investment in the green economy. Investments are tracked in six sectors: Renewable Energy; Green Construction; Green R&D; Smart Grid; Energy Efficiency and Cleantech.
Ethical Markets Global Green R&D Report is a supplement to the Green Transition Scoreboard full report. "Significant investments in Green R&D symbolize that a company has integrated sustainability into its core strategy," reads the supplement report framing the importance of R&D.
Green R&D in Focus
Specifically tracking Green R&D dollars invested, the report provides a breakdown and discussion of Country and Sector data, while naming corporate leaders in various industries. The top three countries for greatest private investment in Green R&D are Germany at number one with over $72 billion (represented by 9 companies), followed by Japan and the United States.
German corporate leadership, according to the report, is linked to the country's automotive industry. Specifically, companies such as Volkswagen, which recently announced it will invest upwards of €76.4 billion-$97.7 billion USD- by 2016 on R&D of efficient vehicles and greening site production. Strong support for renewable energy by the German government is also driving companies such as Siemens to invest into smart grid technologies.
In second place, with over $51 billion invested (26 companies), Japan's automobile companies like Toyota, and electronic firms such as Panasonic are leading in Green R&D investment. In the United States, third on the list with over $43 billion invested (47 companies), large innovative firms such as IBM and GE have strategically shifted towards sustainability. In terms of the automobile industry in the U.S., many companies, such as GM do not publicly disclose R&D amounts invested in hybrid and/or electric vehicles, so the overall dollars invested in the U.S. are probably substantially higher.
Some Canadian Context...
Why is Canada 16th on the country list of Green R&D investment? I asked Timothy Jack Nash, Director of Sustainability Research at Ethical Markets Media, and Principal of Toronto based Strategic Sustainable Investments (SSI). "Canadian firms need to take bigger risks in green areas, or risk losing out to the rest of the world," Nash notes. "The rest of the world is hopping on the green bandwagon, and Canada can hop on board or risk losing competitiveness in the new global economy."
He continues by referring to recent statements by Bank of Canada Governor Mark Carney and Canadian Minister of Finance, Jim Flaherty that Canadian companies are hoarding cash reserves. Nash notes, "Instead of sitting on hundreds of millions in cash reserves, Canadian companies should be making investments to improve the efficiency of their operations and to develop innovative products with a lower environmental footprint."
According to the Global Green R&D supplement report, five Canadian companies have invested over $400 million since 2007. Canadian firms such as Magna International, Boralex, Canadian Solar, Zenn Motor and Enerkem are taking the lead in Green R&D investment and represent a variety of sectors.
"The Green Transition is happening. A major trend is underway, and investors need to recognize that investing in the green economy is a smart way to raise financial returns by solving the world's environmental problems," he concludes.
###
Many thanks to Timothy Jack Nash of Strategic Sustainable Investments (SSI)
Green Transition Scoreboard® 2012: From expanding Cleantech Sectors to emerging trends in Biomimicry Click HERE
Global Green R&D Report, Supplement to the Green Transition Scoreboard® (August 2012) Click HERE
----
NOTES
Ethical Markets: Global Green R&D Report, Supplement to the Green Transition Scoreboard® (August 2012) http://www.ethicalmarkets.com/wp-content/uploads/2012/08/GTS-RD-Aug-2012...
Les Whittington: Jim Flaherty and Mark Carney take on corporate Canada, for The Toronto Star http://www.thestar.com/news/canada/politics/article/1248470--jim-flahert...
Image Credit: Solar Farm by Michael Mees - mcmees24 (Creative Commons via Flickr)