Trader Joe's Seafood to be Sustainable by End of 2012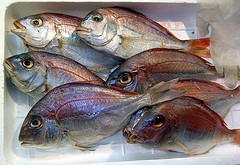 Trader Joe's has a lot of lovable qualities, and now it has one more.  According to the Trader Joe's website, this California-based grocery chain has declared that by December 31, 2012, customers can rest assured that any seafood bought at Trader Joe's was harvested using sustainable practices.
The challenge is to find and support sustainable seafood sources while also keeping their stores stocked well enough to meet current consumer demand.  Although the projected date for complete sustainability is still far ahead, Trader Joe's has already taken steps toward sustainable seafood by stopping the sale of Chilean Sea Bass and Orange Roughy, both of which appear on the "Avoid" list at Seafood Watch because they are overfished or caught by methods that damage other sea life.  Over the course of 2011 and 2012, Trader Joe's has vowed to shift its purchasing practices so that all Trader Joe's seafood, whether canned, fresh or frozen, comes from companies that use ethical fishing practices.
Trader Joe's seafood already boasts a special label revealing whether it was wild or farm-raised, as well as where the seafood was harvested, but they plan to take this labeling further.  Future Trader Joe's seafood labels will also include information about the catch method.
Ethical Methods for Catching Wild Seafood
Some commonly used wild catch methods such as dredging and gillnetting damage the sea floor and catch marine life such as sea turtles, sharks or dolphins in addition to (or instead of) whatever was being fished for.  Certain seafood farming techniques are also problematic, since they can produce harmful waste.  Environmentally friendly methods of catching wild fish include pole fishing and trolling, where a line drags behind a moving boat.  Traps and pots are also effective methods that create minimal impact on the marine environment and other marine life.  Harpooning is a good choice for larger fish such as swordfish or tuna.
Ethical Methods for Raising Farmed Seafood
Many fish are farmed in controlled artificial environments, an industry called Aquaculture.  Farms that raise fish in ponds (to simulate a lake or ocean environment) or raceways (to simulate a river environment) are considered environmentally friendly so long as the waste water is properly treated.  Recirculating systems are the most environmentally friendly method of aquaculture, but also the most expensive.  In recirculating systems, water is treated and then reused, rather than poured off into local waterways.  Trader Joe's is currently working with scientists and fishing experts to make the best choices about which types of aquaculture to support.
What You Can Do
Ethical consumers can help support Trader Joe's transition to sustainable seafood by paying attention to the seafood they buy.  Check the label to learn if it was wild or farmed, as well as its place of origin, and then make educated decisions about which products to purchase.  Keep an eye out for the new Trader Joe's seafood labels that reveal catch method.  If Trader Joe's makes good on it's promise, then by the end of 2012, all seafood available at Trader Joe's will be sustainable seafood.
Photo Credit: malias