Union Pacific Demonstrates Commitment to Veterans with $60,000 Donation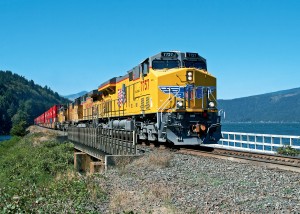 Union Pacific Corporation (NYSE:UNP), the company that operates the iconic Union Pacific Railroad, has announced a $60,000 donation to the Wounded Warrior Project (WWP). WWP is a national nonprofit organization that provides aid to service members that incurred service-connected wounds, injuries, or illnesses on or after September 11, 2001, and their families.
"It is through donations from companies such as Union Pacific that we are able to provide programs and services for injured service members," said Steve Nardizzi, WWP's executive director. "We are grateful to Union Pacific for its support."
Due to advancements in battlefield medicine and body armor, far more service members survive severe wounds and injuries than in previous wars. In World Wars I and II, there were 1.7 wounded soldiers for every soldier killed. In the Iraq and Afghanistan Wars, seven soldiers are wounded for every soldier killed.
This means that a higher percentage of service members are coming home wounded. Between the Iraq and Afghanistan Wars, over 50,000 servicemen and women have been wounded, an estimated 320,000 have suffered traumatic brain injuries, and an estimated 400,000 suffer from post-traumatic stress disorder (PTSD).
Approximately two million American troops have been deployed to Iraq and Afghanistan since 2001, meaning than around 20 percent of those deployed suffer from PTSD. In June, the New York Times reported that the suicide rate among the nation's active-duty military personnel had eclipsed the number of troops dying in battle in Iraq and Afghanistan.
WWP provides psychological support to help recover from the stress of combat, job training to help soldiers find work, and connects soldiers around the country with each other to create networks of support. WWP also works to raise awareness and to enlist the public's aid for the needs of injured service members.
"We are extremely honored to contribute to Wounded Warrior Project, whose vision is to foster our nation's most successful, well-adjusted generation of wounded service members," said Union Pacific's president and CEO Jack Koraleski.
Union Pacific has one of the most robust corporate military support programs in the country. Veterans make up around 20 percent of Union Pacific's overall workforce, and 24 percent of the company's hires in the last five years have been veterans. In 2012, around 23 percent of Union Pacific's new hires were military veterans.
"Our company has a strong bond with the military, and the fact that military veterans represent approximately 20 percent of our employees reflects the special efforts we make to recruit them. We are proud of this connection," said Koraleski.
This month, G.I. Jobs, one of the nation's premier career guides for military job seekers, recognized Union Pacific as one of the nation's top military-friendly employers for 2013.
"We take great pride in employing military veterans," said Barb Schaefer, Union Pacific's senior vice president of Human Resources.
Union Pacific also has a progressive reservist policy. The railroad compensates the difference between military and company pay for employees called to duty and continues to provide health plan benefits for dependents when employees are deployed.
"Military training instills dedication and a goal-oriented work ethic that translates very well to the railroad," added Schaefer. "We encourage retiring and transitioning military personnel to help strengthen our organization by joining the Union Pacific workforce."
Image credit: Chris Bojanower, Flickr