University of Maryland at College Park is Channeling Green Power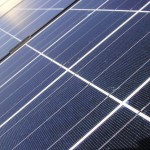 The University of Maryland College Park has recently installed solar panels on the Diner in North Campus. A total of 20 solar panels were installed on the roof of the building at the end of February and is a part of the university's plan to overall nine buildings to become more energy efficient.
Although the projects defined in the Energy Performance Contract will cost approximately $20 million, the university will be able to use the money saved on utilities cost to repay the 10 year loan received from the state to undergo construction. $1.7 million will be saved annually in energy costs, which translate into a savings of 5 million kilowatt-hours and 2.5 million gallons of water.
Thanks to Johnson Controls, the manufacturer of the green sustainable building products installed, the University of Maryland has begun the Energy-Saving Opportunity Project with the North Campus Diner and will continue all upgrades by the end of the semester. The university has a long-term commitment to reducing all campus carbon foot printing to zero by 2050. They have already begun green upgrades on other buildings this year as well. The high-rise dorms and other newly constructed buildings has received new water-conserving toilets. All lights and air conditioning compressors has also been exchanged with more energy-efficient fixtures. Building exhaust hoods are used to moderate the amount of steam that building pipes allow to escape. Replacing these hoods alone can yield a tremendous savings. So far, five of these buildings structures have been replaced for a total savings of 26,000 kilowatts per hour since the installations were completed last year.
More solar panels will be installed on the roof of the Cole Field House to power the Driskell Center, which happens to be a center dedicated to studying and showcasing African Diaspora art and culture. The green construction plans may also include other encompassing building; the Art-Sociology Building, the Plant Sciences Building, and Easton Hall. The project will continue in other campus locations through April 2011.
Johnson Controls will be paid $70 million for their green campus upgrades. The funding is made possible by a state program that provides loans to government agencies to purchase construction equipment. The manufacturer is urging other building campuses to go green. They have recently launched a video contest payable for up to $5000 to help schools begin green energy-saving improvements. They also were one of the leading vendors in helping NASA to build their new Terrestrial Sustainable Base Station in Moffett California that is slated to open later this year.
Visit Johnson Controls at www.johnsoncontrols.com.