Up in Smoke: The Tobacco Industry Is Getting Burned by Taxes and Ethical Investors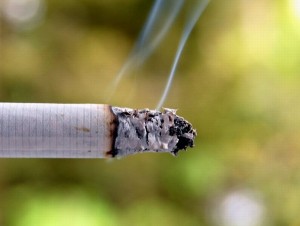 Cigarettes are a multi-billion-dollar business that kills people and the planet. Lawmakers and socially responsible investors are taking a stand
As a former smoker, I am sometimes envious when I watch people enjoying a long drag after a delicious meal. For the initiated, it is a well-known and singular delight. But I don't envy the health risk or the ever-increasing price of a pack of cigarettes.
The most recent increase in New York, where I live, came in 2010, when the state raised the cigarette tax by $1.60 to $4.35, the highest in any state. With a local New York City tax of $1.50 per pack, the total cigarette tax hit $5.85, pushing the price of a pack to $14.50 in some parts of the city.
The Campaign for Tobacco-Free Kids hailed the move, writing in a press release:
"New York can expect the $1.60 cigarette tax increase to prevent 170,500 New York kids from becoming smokers; spur 86,100 current adult smokers to quit; save 77,300 New York residents from premature, smoking-caused deaths; save $3.8 billion in future health care costs; and raise $210.3 million a year in new state revenue. In New York, tobacco annually claims 25,400 lives and costs the state $8.2 billion in health care bills. While New York has made significant progress in reducing smoking, 14.8 percent of New York high school students still smoke, and 85,000 kids try cigarettes for the first time each year."
"I think it's wonderful," said Peter Slocum of the American Cancer Society about the tax hike. "Increased cigarette taxes have been one of the major successful public health interventions in the last decade in driving smoking rates to record lows in New York City and a lot of other parts of the country, too."
In 2009, President Obama signed a federal cigarette tax increase of 39 cents. In September 2012, USA Today published an analysis that found the measure to have led to at least 3 million people kicking the habit.
PAYING FOR THE RIGHT TO BEHAVE BADLY: TAXING NEGATIVE EXTERNALITIES
The drive to reduce smoking isn't just about reducing the rates of cancer or emphysema or chronic bronchitis or low birth-weight babies among those who smoke. Second-hand smoke is a proven carcinogenic. And many people who get sick from smoking end up putting a strain on public health services in general, driving up healthcare costs, which are passed on to people who don't smoke.
These other effects are known as negative externalities (also known as "external diseconomies"), which occur when a decision made by an individual or company negatively impacts others or society in general. In other words, part of the full cost of a personal or corporate decision (like smoking, drinking sugary drinks or polluting the air) is paid for by society (in the form of increased health care costs or dealing with bad air quality).
In Sunday's New York Times magazine, Adam Davidson wrote an interesting piece entitled "Should We Tax People for Being Annoying?" about taxing such negative externalities, specifically referring to the "Pigovian tax," named after early 20th-century British economist Alfred Pigou, who argued that if people had to pay for their bad behavior, they would do them less.
Davidson, the co-founder of NPR's "Planet Money" podcast, wrote that many Republican economists who normally recoil at the thought of increased taxes "support Pigovian taxes because, in some sense, we are already paying them." In discussing the pros and cons of a traffic congestion tax to get people to carpool or drive less, he notes that "e pay the tax in the form of the overcrowded roads, higher insurance premiums, smog and global warming. Adding an extra fee at the pump simply makes the cost explicit."
PIGOVIAN PROBLEMS: THE TROUBLE WITH TAXATION
But there are several issues with Pigovian taxes. For one thing, while there is no question that they generate revenue for public coffers, they can lack efficiency, cause other problems and may not actually reduce or eliminate the externality in question. To help pay for a pollution tax, for example, a company may decide to lay off workers. Additionally, the government must invest in regulators to monitor externalities, an expense paid for by taxpayers.
According to the Public Economics wiki maintained by the University of North Texas: "Although tax acts as an additional cost of consuming cigarettes, certain individuals still choose to consume this good because they may simply adjust their spending or may have a higher amount of income reserved for discretionary spending. In this situation, the tax acts more like a source of government revenue rather than a solution to the negative consumption externality."
And as with all vices, there is a dark side to the Pigovian tax. Last week, the Washington, D.C.-based Tax Foundation released a report that found that New York sells the most bootlegged cigarettes of all states, with over 60 percent of the cigarettes sold smuggled across its border.
As Tax Foundation economist Scott Drenkard said, "Dramatic increases in state cigarette taxes have yielded additional revenue for priorities like public health, but have also fueled the rise of organized crime and law enforcement corruption."
LIVE GREEN LEAVES ARE BETTER THAN DEAD BROWN ONES
Besides the healthcare costs, the tobacco industry impacts the environment in a multitude of ways. Long before a smoker lights up, much damage to the environment has been done: Producing an estimated 6.3 trillion cigarettes a year contributes a significant amount of environmental degradation, such as deforestation, a major driver of global warming through the release of carbon stored in trees. And the clearing of forests isn't just to make room to grow tobacco, but also for wood for fires to cure harvested tobacco.
Here are some environmental facts about tobacco gathered by the UK-based Action on Smoking and Health (ASH):
Tobacco cultivation is responsible for biodiversity losses, land pollution through the use of pesticides, as well as soil degradation, deforestation and water pollution.
Tobacco plants consume nutrients at a higher rate than most crops.
Cigarette-manufacturing machines use up to four miles of paper an hour to roll and package cigarettes.
Cigarette butts are washed into rivers, lakes and the ocean where they are eaten by birds, animals and fish.
While the global share of agricultural land used for tobacco growing is less than 1%, its impact on global deforestation is 2–4%, making a visible footprint for climate change.
"All stages of cigarette production and consumption contribute to global warming, from the growing and curing of tobacco (and associated deforestation) to manufacturing and promotion and to the smoking and disposal of tobacco products," asserts ASH, which also adds a nefarious note: "Internal tobacco industry documents released through litigation in the United States have revealed that the tobacco industry was involved in initiatives that cast doubt on the evidence supporting climate change and may have hindered progress towards tackling the problem."
A study by Mwita M. Mangora of the University of Dar es Salaam in Tanzania, published last year in Current Research Journal of Social Sciences, found that in Tanzania, for example, more than 61,000 hectares of forests are lost each year to support tobacco plantations.
Over 120,000 cubic metres of trees killed every year in the Tabora region alone. In recent years, thousands of hectares of the Miombo forests—the region's primary source of rainfall—have been cleared. A local alternative farming group called Igembe Nsabo has been trying to convince farmers to abandon the destructive tobacco industry and switch to crops like sunflower, cotton and maize—crops which not only help feed and clothe people, but are also more environmentally suitable for the region. But as they enjoy governmental support for the revenue generated by tobacco exports, most farmers are reluctant to make the switch.
KICKING UNETHICAL INVESTMENTS: DIVESTING TOBACCO
For smokers, the solution to all the ills of smoking is clear, though extraordinary difficult: quit. But for socially responsible investors, kicking the habit means shedding investments in the tobacco industry. Like fossil fuel, arms and pornography, it is a main target for socially responsible divestment campaigns.
Last week, The Sydney Morning Herald reported that HESTA, a superannuation fund for health and community services workers in Australia, confirmed it has begun dumping tobacco from its investment portfolios this year. The fund, which has more than 750,000 members, will be rid of all its tobacco investments by April, according to HESTA chief executive Anne-Marie Corboy, who noted that less than $35 million of the fund's $20 billion was tied up in tobacco concerns.
"If a health fund invests in the tobacco industry, they are part of the tobacco industry," said Anne Jones, the chief executive of Action on Smoking and Health Australia. "It's clearly unethical," she said, adding, "You can't have Australia being a leader in tobacco control driving down smoking rates at home but saying it's OK for us to be investing in getting poor people addicted in other countries."
PEOPLE POWER IN 2013
Rebecca Tarbotton, the executive director of the non-profit environmental organization Rainforest Action Network (RAN), recently died in a tragic swimming accident in Mexico. She had been working on a letter to supporters that she planned to send in the new year. In a recent email, RAN's communications director Nell Greenberg said that they decided to publish Tarbotton's full letter on their blog. In the letter, Tarbotton wrote, "This is a community that can see windmills replacing coalfields. That believes a tree is worth more standing than cut down for paper. That knows people power can trump corporate power."
Those beliefs are coming to the fore in 2013. Hank Boerner argues that this year we will see a "sharp rise in SRI and consumer activism in the U.S. and abroad." Boerner, who is the chairman of the Governance & Accountability Institute, writes that "he organized protests we'll see in the coming corporate proxy-voting season where issues play out in shareholder-corporate showdowns. The annual election process in publicly owned companies is where certain societal and governance issues come into focus."
With ethical investing and public pressure on corporate responsibility on the rise, Tarbotton's vision of people power may very well leave tobacco companies up in smoke. And after learning a lot more about the tobacco industry's effects on the environment, I'll probably be less envious next time I see someone taking a long, slow drag after dinner.
###
NOTES
Dennis Cauchon. Tax hike cuts tobacco consumption. USA Today. September 13, 2012. Accessed January 14, 2013.
Tonya Moreno. New York Increases Cigarette Tax. About.com. August 1, 2010. Accessed January 14, 2013.
Campaign for Tobacco-Free Kids. New York Cigarette Tax Increase Delivers Victory for Kids and Taxpayers, State Needs to Increase Funding for Tobacco Prevention and Cessation Programs. PR Newswire. June 22, 2010. Accessed January 14, 2013.
Nicholas Confessore and Danny Hakim. New York Reaches Deal to Raise Cigarette Tax. The New York Times. June 19, 2010. Accessed January 14, 2013.
Ibid., 1.
Adam Davidson. Should We Tax People for Being Annoying? The New York Times Magazine. January 13, 2013. Accessed January 14, 2013.
Ibid.
Susan Dadres. Negative Externalities and the Environment. University of North Texas. Fall 2010. Accessed January 14, 2013.
Hilary Russ. New York State ranks first for smuggled cigarettes in U.S.. Reuters.com. January 10, 2013. Accessed January 14, 2013.
Action on Smoking and Health. Tobacco and the environment. ASH.org.uk. August 2009. Accessed January 14, 2013.
Ibid.
Mwita M. Mangora. hifting Cultivation, Wood Use and Deforestation Attributes of Tobacco Farming in Urambo District, Tanzania. Current Research Journal of Social Sciences. 4(2): 135-140. March 20, 2012. Accessed January 14, 2013.
Kizito Makoye. Tobacco farms drive major deforestation in Tanzania. Alternet.org. December 26, 2012. Accessed January 14, 2013.
Dan Harrison. Another super fund drops its investment in tobacco. Sydney Morning Herald. January 10, 2013. Accessed January 14, 2013.
Ibid.
Rebecca Tarbotton. The Last Message Becky Wrote to You. RAN.org. January 11, 2013. Accessed January 14, 2013.
Nell Greenberg. Rainforest Action Network. Email received January 14, 2013.
Ibid., 16.
Hank Boerner. Activism & Impact: Stay Tuned to These Issues in 2013. CSRwire.com. January 4, 2013. Accessed January 14, 2013.
image: Challiyil Eswaramangalath Vipin, Wikimedia Commons)