Welcome to the Participation Age: Hillary Clinton Calls for Elimination of Economic Barriers to Women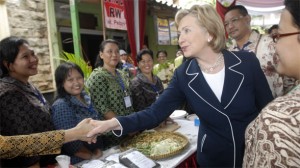 "We are entering the Participation Age, where every individual, regardless of gender or other characteristics, is poised to be a contributing and valued member of the global marketplace." -- US Secretary of State Hillary Clinton
On Friday, United States Secretary of State Hillary Clinton chaired the Asia-Pacific Economic Cooperation (APEC) Women and the Economy Summit in San Francisco, a major conference that was notable for being the largest gathering of foreign diplomats in the city since the United Nations was signed there in 1945. As the summit focused on ways to increase the economic participation of women in the Asia-Pacific region, the high attendance is indicative of the global interest in not only this region as an emerging market force, but also in the more significant and increasingly necessary role that women are playing in the region's economies. APEC is a forum of 21 member economies promoting free trade and economic cooperation throughout the region and includes regional heavyweights like Australia, China and Japan, as well as the United States and Russia.
Calling on APEC members to eliminate social and systemic barriers that hampered women's economic involvement, Clinton said that "unlocking the potential of women by narrowing the gender gap could lead to a 14 percent rise in per capita incomes by the year 2020 in several APEC economies, including China, Russia, Indonesia, the Philippines, Vietnam and Korea." However, she also was careful to note that the United States still had a long way to go, citing a Goldman Sachs report that found that America would increase GDP by 9 percent if barriers to female participation in the workforce were eliminated.
BOSS WOMAN: MICROFINANCE BOOSTS FEMALE ENTREPRENEURSHIP
"As a male in the room, I need to say one thing and this is that in our part of the world, Asia and the Pacific, there is still an underlying factor which prevents full participation of women in the economy and that is violence against women," said Australian foreign minister Kevin Rudd, who announced a commitment of AUD 2.2 million (USD 2.26 million) contribution to Women's World Banking, a New York-based NGO network of 39 financial organizations that provides microfinancing to women in 27 countries. "This money will help microfinance institutions provide loans to more than 26 million women by the end of 2013. That's 26 million women who will be able to establish their own business, send their children to school and improve their standard of living," said Rudd, "and I foreshadow that you will see us in Australia doing more and more in this area in the years to come."
At a policy discussion luncheon during the summit, Meng Xiaosi, the vice president of the All-China Women's Federation (ACWF), said that China currently boasts more than 29 million female entrepreneurs, representing about a quarter of the national total. She noted the ongoing projects in China meant to increase women's access to capital and markets. One such ACWF-promoted microcredit project has helped more than 900,000 women start their own businesses and created jobs for some 4 million other women. "Since 1990s, economic development and technological advancement in China have given rise to a strong momentum of women entrepreneurship," Meng said.
Indonesian foreign affairs minister Marty Natalegawa noted that women in his country run 39 percent of all small and micro enterprises and 18 percent of medium and large enterprises. He also said that female-run SMEs increased 42 percent of the last decade. "The leadership and the cooperation of all stakeholders are a must to improve women roles in economic sector; women proved they have a great contribution in global economic recovery," said Natalegawa, adding, "Women's role to move the economy, especially in SMEs, is indisputable."
PROMISING CONCRETE ACTIONS: THE SAN FRANCISCO DECLARATION
An outcome of the APEC summit was the creation of the San Francisco Declaration, a joint commitment to increase women's economic participation among APEC economies. According to the declaration, "APEC economies will take concrete actions to realize the full potential of women, integrate them more fully into APEC economies, harness their talents, remove barriers that restrict women's full economic participation, and maximize their contributions towards economic growth. Evidence from both developed and developing economies has shown that increased participation of women will generate faster and more equitable income growth, create greater business opportunities, and enhance competitiveness for firms and economies by facilitating innovative thinking and fuller use of a significant resource."
As APEC policymakers reflect on the summit and consider the challenges ahead, they would do well to consider yin and yang, a primary concept of classical Chinese philosophy, which describes seemingly polar opposites as interconnected and interdependent, such as male and female. Instead of being seen as oppositional forces, yin and yang are complementary and need each other for the health of the greater whole. Perhaps Clinton's so-called "Participation Age" has been there all along. If so, maybe closing the gender gap is just making sure that the yin and yang of the world economy find a harmonious and equal balance.
###
NOTES
http://fpc.state.gov/172610.htm
http://www.state.gov/secretary/rm/2011/09/172605.htm
http://www.smh.com.au/national/rudd-speaks-out-for-women-20110917-1kfab.html
http://www.investinaustralia.com/news/microfinance-support-26-million-women-developing-countries-56g8
http://www.chinadaily.com.cn/china/2011-09/17/content_13726284.htm
http://www.antaranews.com/en/news/75765/ri-fm-addresses-apec-sponsored-meeting-on-womens-role
http://fpc.state.gov/172626.htm
image: US Secretary of State Hillary Clinton greets local business women at Petojo Utara neighborhood in Jarkarta, Indonesia, February 19, 2009 (credit: US State Department)