What kind of company survives and thrives next? Bob Willard on Capitalism 2.0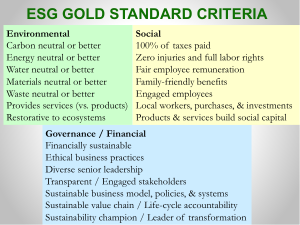 What defines growth in the future? How local will our economies get? And what kind of structure will best serve the 2.0 firm? Envisioning the next version of capitalism means going big—through consolidation of global ESG standards—and going local—through a diversity of resilient businesses bringing financial, social and environmental value to their markets. A stormy February 7 brought a still enthusiastic crowd to hear Canadian sustainability thinker Bob Willard lay out this vision of Capitalism 2.0 at the Toronto Sustainability Speaker's Series. Building on 10+ years of writing on business sustainability and echoing other work on the transformational firm, Willard defined his set of conditions for a business that is adapted to the "megaforces" affecting business now and in the coming decades. The qualities of a 2.0 company, as compiled by Willard, are the vanishing point leading firms are moving towards now. Fully realized, a 2.0 firm would not only be resource neutral, but make a positive return to the environment. It would treat employees fairly, source locally and contribute to social capital through its core offerings. It would be financially sustainable, while fully integrating sustainability into its business model and systems. And it would influence policy, and address societal and environmental challenges while leading the transformation of other firms. The purpose of the 2.0 firm would be to create shared stakeholder value, and the market force would be local. Capital sources would be much more diversified than perhaps they are today: including the stock market, but also smaller financial institutions, customers, employees and local communities.
This model of the 2.0 firm works to bring together characteristics from many of the viewpoints and rankings schemes applied to companies over the past decade. And attendees had some other good adds: for example, fully diverse representation of the population at all levels of the firm, and lack of any exploitation throughout the supply chain. But it's just as interesting to imagine the state of economies in which these firms operate. Given all the forces at play, what happens to growth and profit in the resource-scarce 2.0 world we are entering? According to Willard, a very different kind of value creation: "Focus on economic growth fuelled by rapacious consumption will be balanced by focus on growth of social well-being and natural capital. Economic growth for economic growth's sake will be replaced with other ways of creating good jobs and genuine progress / happiness." And what type of business will best survive? Many of qualities of the 2.0 firm reminded me of the co-operative model, but as Willard notes, "Some of the new business models will co-operatives. Some will be hybrid organizations. Some will be social enterprises. Some will be B Corps with different purposes. That is, there will be a rich mix of diverse business models. It doesn't matter, as long as they behave as sustainable enterprises and add value to financial capital, social capital, and environmental capitals throughout their value chains / networks." In the 2.0 world, the better the business will be at adding value locally, the better their resilience. While the coming trend may be towards natural, local economies, Willard also sees global initiatives creating one standard for company ratings, and the integration of sustainability performance within standard accounting practice really moving the bar worldwide and providing consistent metrics to support those adding ESG value in their specific sphere—with local and global hopefully meeting in a balanced approach.
Watch for the release in April of a white paper on Capitalism 2.0 further discussing these themes.