World Business Council for Sustainable Development 'Means Business' Tackling Climate Change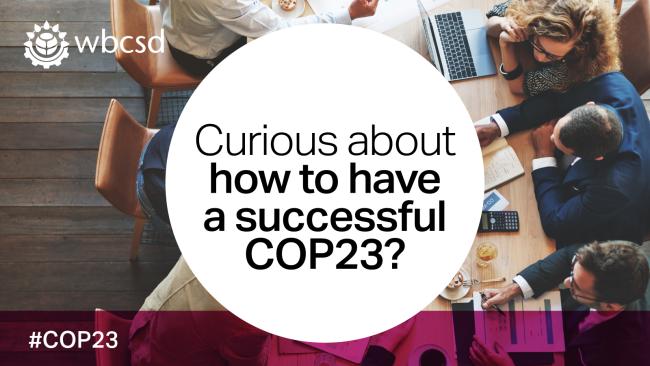 (3BL Media/Justmeans) - Climate change is now affecting every country on every continent; disrupting national economies, affecting lives, communities and costing business dearly. We are all experiencing the significant impacts of climate change, from changing weather patterns to rising sea level and more extreme weather events. The greenhouse gas emissions from human activities are driving climate change and are now at their highest levels in history, which is why in advance of the Conference of the Parties (COP23), the World Business Council for Sustainable Development (WBCSD) released key policy recommendations for this year's round of climate negotiations ahead of next year's global stock take on progress made towards the Paris Agreement.
The overarching key message made was that strong business leadership will continue to be required to accelerate implementation of climate action, and that collaboration between business and government is vital for scaling climate action across the world. Business is an essential partner in reducing emissions and needs to be fully involved in shaping the next round of national climate action plans.
WBCSD recommends that COP23 climate negotiators consider four key things: to ensure a structured policy dialogue between governments and other stakeholders through the Marrakech Partnership; to formally introduce and incorporate input from non-state participants in the 'Facilitative Dialogue'; to build partnerships for resilience across global supply chains and in vulnerable communities experiencing climate impacts; and lastly to support carbon markets and enable cross-border collaboration on mitigation efforts.
'The Marrakech Partnership' is a call that is loud and clear, stating that nothing can stop global climate action. There is consensus that if the world is to realise the goals of the Paris Agreement, it must all go further and faster in delivering climate action before 2020, enabled by adequate flows of finance, technology and capacity building. This is why business is calling for The Marrakech Partnership; it provides a great platform for showcasing successful approaches to reducing greenhouse gases and enhancing climate resilience.
The 'Facilitative Dialogue' takes stock of collective progress towards the Paris Agreement and will help to further ambition in the next round of 'National Determined Contributions'. This is why WBCSD is pushing for it and a draft design of what the dialogue will look like and how stakeholders can be involved is to be presented at COP23.
The push for partnerships to build 'Climate Resilience' across their supply chains and the frontline communities experiencing climate impacts is key for business. Along with meaningful carbon pricing, where governments need to find ways to align carbon pricing mechanisms, to ensure that pricing is credible, predictable and high enough to drive ambition consistent with the Paris Agreement.
The fight against climate change cannot be done without the corporate world; it is the force behind emissions reductions across global supply chains. Climate change is a significant and material risk to business; and therefore they cannot afford to be left out of this global conversation.
Photo Credit: WBCSD on 3BL Media