WWF Report Highlights Urgent Need to Shift Toward a Sustainable Way of Life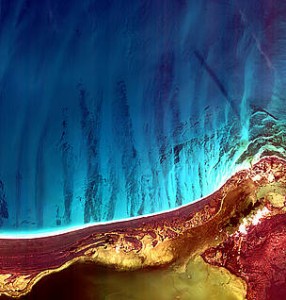 Over the past 60 years, people living in the developed world have gained access to unprecedented levels of material consumption, which unfortunately was achieved in an unsustainable way. This consumption boom has left in its wake a path of environmental damage and, ironically, has not made humans happier, as a parallel boom in psychological diseases was registered in the same period.
A new report by World Wildlife Fund (WWF) highlights this unsustainable situation and warns that ever-growing demand by a growing population is threatening our future. Called Living PlanetReport, the report is a biennial survey of the planet's health and the diagnosis, it says, is a very sick planet.
It was produced in collaboration with the zoological Society of London and Global Footprint Network. The report was launched from the International Space Station by ESA astronaut André Kuipers. "We only have one Earth. From up here I can see humanity's footprint, including forest fires, air pollution and erosion – challenges which are reflected in this edition of the Living Planet Report," said Kuipers in launching the report during his second mission into space. "While there are unsustainable pressures on the planet, we have the ability to save our home, not only for our benefit, but, above all, for generations to come," he said.
The report uses the global living Living Planet Index to measure changes in the health of the planet's ecosystems by tracking 9,000 populations of more than 2,600 species. The global Index shows almost a 30 per cent decrease since 1970. The tropics have been the hardest hit, with a 60 per cent decline in less than 40 years. The Earth's Ecological Footprint, another key indicator used in report, shows that our pressure on natural resources has become unsustainable.
"We are living as if we have an extra planet at our disposal. We are using 50 per cent more resources that the Earth can sustainably produce and unless we change course, that number will grow fast – by 2030 even two planets will not be enough," said Jim Leape, Director General of WWF International.
"This report is like a planetary check-up and the results indicate we have a very sick planet," said Jonathan Baillie, Conservation Programme Director with the Zoological Society of London. "Ignoring this diagnosis will have major implications for humanity. We can restore the planet's health, but only through addressing the root causes, population growth and over-consumption."
Urbanization is a major issue as well. By 2050 two thirds of humanity will be living in a city, meaning humanity needs to develop better ways to manage natural resources. Amongst the solutions highlighted in the report are waste reduction, smarter water management and tapping the power of clean and renewable energy sources such as wind and sunlight.
The launch of Living Planet Report coincides with the UN Conference on Sustainable Development (Rio+20 ), due to start in five weeks. The first Earth summit took place in Rio 20 years ago and provides a platform for global leaders to reconfirm their commitment to creating a sustainable future.
"The challenges underlined in the Living Planet Report are clear," said Leape. "Rio+20 can and must be the moment for governments to set a new course towards sustainability. The meeting is a unique opportunity for coalitions of the committed to join forces and play a crucial role in keeping this a living planet."
Image credit: WWF