Young People Face Huge Challenges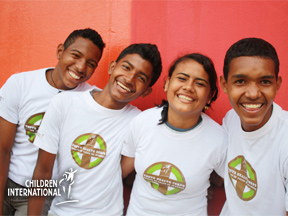 (3BL Media/Justmeans) - Currently, there are over 200 million youth living in poverty, 130 million illiterate, 88 million unemployed and 10 million living with HIV/AIDS. The case for investing in young people today has never been stronger. At 1.5 billion, our global youth generation is the largest in history. In 2003, a quarter of all children in the developing world were malnourished. Eleven million children under the age of five die each year, mostly from preventable and treatable diseases; if this trend continues, it will mean 110 million of the world's youngest children will have perished before the current group of five-year olds reaches the threshold age of youth in 2015. That's just two years away! Moreover, 115 million children are not in school. These statistics suggest that the young people in 2015 will face enormous challenges unless a much greater effort is made to change things…
The Children International's '2013 Youth Report' is both timely and necessary as it explains how the organisation's youth programs, with community centres at the core, have had real results for impoverished youth. It describes how their programs can address the issues that plague these communities – from gangs to drugs, disease, environmental hazards, human trafficking, and discriminatory social and cultural practices. The majority of the world's young people aged 10 to 24 live in developing countries, and many of whom exist in extreme poverty, where they frequently experience threats to their personal safety.
Children's International's community centres provide these youngsters with a safe, secure environment where they engage in constructive activities with caring adults, peers and mentors. Participation rates have more than doubled since 2010 for this program because it seeks real solutions in order to prepare these young people to face the challenges in their communities and equip them with skills, education and training to effectively transition into adulthood and work.
While most youth manage to make the transition from childhood to adulthood in a safe and peaceful environment, large numbers of young people are not so fortunate; the past 15 years have witnessed enormous growth in domestic and international armed conflict. Therefore, without positive interventions like Children International's youth programs, these at-risk youth can remain forever trapped in a cycle of poverty.
It is also true that more often than not, many policies and initiatives are based on negative stereotypes of young people, with a lot of attention given to drug abuse and violence. These types of frameworks ignore the majority of youth, who do not engage in such high-risk behaviours, and divert attention away from the need for structural investments in education, healthcare and employment creation. Investing in youth starts at the beginning, which means investing in children. Responding to the needs and aspirations of young people is a crucial challenge for the future.
Photo Credit: Children International