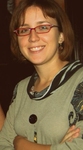 At Justmeans I do corporate sustainability research for the Global 1000. I have lived in Oregon, Chile and Israel. I've done projects on gender and environment, industrial land-use and urban renewal in Jerusalem. I enjoy data and long walks on the beach.
CONNECT WITH ALEXANDRA FRACKELTON
STORIES FROM ALEXANDRA FRACKELTON
Energy & Emissions: Facebook is open-sourcing data center and hardware design for its new data center in Prineville, Oregon--aiming to be t...