Learn about our Company

ABOUT Columbia University
Columbia University in the City of New York, commonly referred to as Columbia University, is an American private Ivy League research university located in New York City, New York, United States. Columbia is the oldest institution of higher learning in the state of New York, the fifth oldest in the United States, and one of the country's nine Colonial Colleges founded before the American Revolution. Today the university operates seven Columbia Global Centers overseas in Amman, Beijing, Istanbul, Paris, Mumbai, Santiago and Nairobi. The Columbia University was founded in 1754 as King's College by royal charter of George II of Great Britain. After the American Revolutionary War King's College briefly became a state entity, and was renamed Columbia College in 1784. The University now operates under a 1787 charter that places the institution under a private board of trustees, and in 1896 it was further renamed Columbia University. That same year, the university's campus was moved from Madison Avenue to its current location in the Morningside Heights neighborhood of Manhattan, where it occupies more than six city blocks, or 32 acres (0.13 km2). The university encompasses twenty schools and is affiliated with numerous institutions, including Teachers College, Barnard College, and the Union Theological Seminary, with joint undergraduate programs available through the Jewish Theological Seminary of America as well as the Juilliard School.
Online Information Session for Columbia University's M.S. in Sustainability Management Program
Location: Online Info Session Summary: Learn more about Columbia University's online information session.
Event Date & Time:


| | |
| --- | --- |
| February 15, 2012 | | 6:00 PM - |
Description:
The Earth Institute and School of Continuing Education at Columbia University invite you to join us for an on-line Information Session on Wednesday, February 15 at 6:00 p.m. to learn more about the Master of Science in Sustainability Management. The on-line Information session is a user-friendly live broadcast that will allow you to interact with the Program's Director, Steve Cohen, in real time via chat.
The program is designed to meet the growing demand for sustainability managers and will train leaders to bridge the gap between the principle of sustainable development and its practice. Students in the program will learn sophisticated environmental measurement tools and cutting-edge environmental science to fully understand the systematic and organizational role of sustainability in any organization. This offers a cutting edge curriculum that is constantly expanding to meet the professional needs of sustainability practitioners. The program has launched two brand new courses for Spring 2012, the Science of Urban Ecology and Sustainable Cities. More information about these two courses can be found on the Earth Institute's State of the Planet Blog: Click Here
The program is offered on a full-time or part-time to accommodate the schedules of working professionals. The regular application deadline for Fall 2012 admission is May 1. For more information about the program, please visit http://www.earth.columbia.edu/articles/view/2640.
What: M.S. in Sustainability Management Information Session
When: February 15, 2011 at 6 p.m.
On-line Information Session: The online session will be conducted using Adobe Connect. Login information will be emailed to you before the event
Speaker: Steve Cohen, Director, M.S. in Sustainability Management Program, Executive Director, the Earth Institute
If you would like to attend this information session, please Register Here
More About Our Program
ABOUT the Master of Science in Sustainability Management Program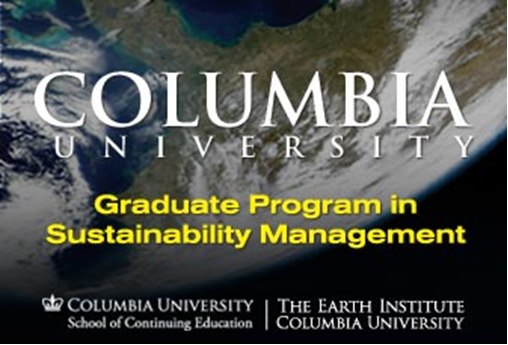 The Columbia University Master of Science in Sustainability Management utilizes environmental and sustainable development research to provide practical training to a new generation of professionals who will address sustainability and conservation issues critical to any organization. The program melds academic leadership, scientific rigor, and professional practice to form a unique interdisciplinary community. The program is jointly offered by the School of Continuing Education and The Earth Institute, Columbia University.
---