Leveraging Digital Resources and Training for Small Business Growth and Community Benefit: Enabling Small Businesses to Strengthen Communities
Presented by AEO in partnership with Empower by GoDaddy
Empower by GoDaddy is proud to celebrate 5 years of serving entrepreneurs everywhere. This report is intended as a reflection of our learnings and framework for others to follow suit in supporting local small business owners around the world.
Empower by GoDaddy: Enabling Small Businesses to Strengthen Communities
With the right support in the context of the digital landscape, small business owners can build their ventures into viable commercial enterprises that are financially sustainable, contribute toward equity and economic inclusion, and increase the resilience of their communities. In service to that goal, Empower by GoDaddy provides individualized marketing education and mentorship, access to custom online workshops and coaching support in group and webinar settings, networking opportunities, and free GoDaddy products to establish an online presence.
The program's three-pronged approach includes:
Live training and one-on-one coaching
A free domain name and website for two years
A learning platform with robust curriculum that can be accessed at any time
The curriculum consists of 10 modules, video tutorials, worksheets, a facilitators guide for in-person cohorts, and access to no-cost coaching by industry experts at GoDaddy. With the advent of the coronavirus pandemic, GoDaddy and AEO adapted the program to be delivered remotely, training partners to run virtual programming and ensuring that all entrepreneurs had access to laptops and wi-fi to fully engage in a virtual experience.
The Empower by GoDaddy Module Topics:
Evaluate Your Brand
Choose the Right Tools for You
Design a Great Website
Creating Your Site Content
Getting Found Through SEO
Creating Your E-Commerce Presence
Grow Your Business with Email Marketing
Mastering Your Brand's Social Media
When participants complete at least three modules from the curriculum, they receive a promotion code for a free bundle of tools — either focused on website-building or on e-commerce — that they can access for up to two years. After two years, businesses are automatically enrolled into a discounted program offering 50-70% off product renewals and new products.
"I love that GoDaddy, a big business, is giving back in a way and helping people out who want to start their own business, and giving them the opportunity to build their business before paying for the services."

–Maine Cohort Participant
This approach is unique in the program landscape; both qualitative and quantitative feedback from entrepreneurs in the program found value in the combination of tools, curriculum, and coaching — and revealed that no single approach works as well as this combination. Empower by GoDaddy offers community stakeholders a framework for providing trusted advice and support to entrepreneurs.
The Empower by GoDaddy program leverages local BSOs that play an important role in advocating, supporting, and guiding small businesses. These BSOs are the implementers of the program and can offer it one of two ways— high-touch or low-touch — depending on community needs and BSO capacity.
The high-touch option uses a cohort model that allows small business owners to network and learn in community. The low-touch delivery model allows for a self-guided experience appropriate for business owners who have a basic understanding of digital presence and who require flexibility. This customizable design allows BSOs to fit the Empower program into their workflows and use it to supplement existing programming.
"Thanks to Empower, now I can build my own professional website with the platform and tools I learned throughout the course while managing my online marketing. It doesn't feel like such a hard task anymore for someone like me who doesn't have a business background."

- Empower Participant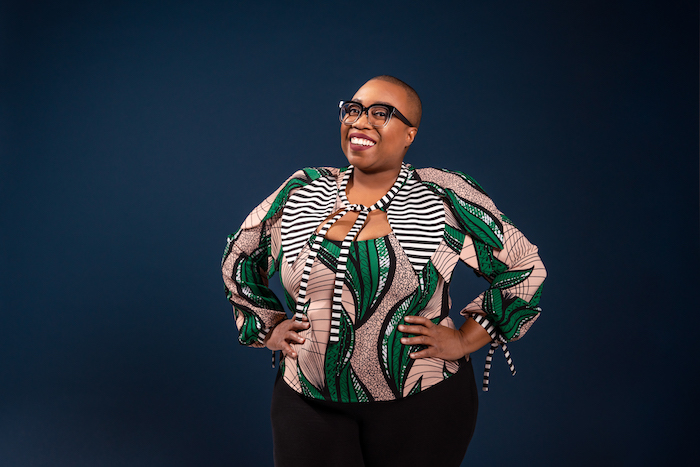 Photo: Kenya Freeman, Sylvia Mollie Collections
Learn more about Association for Enterprise Opportunity (AEO) here