Kellogg-Morgan Stanley Sustainable Investing Challenge: Inspiring The Next Generation Of Investment Models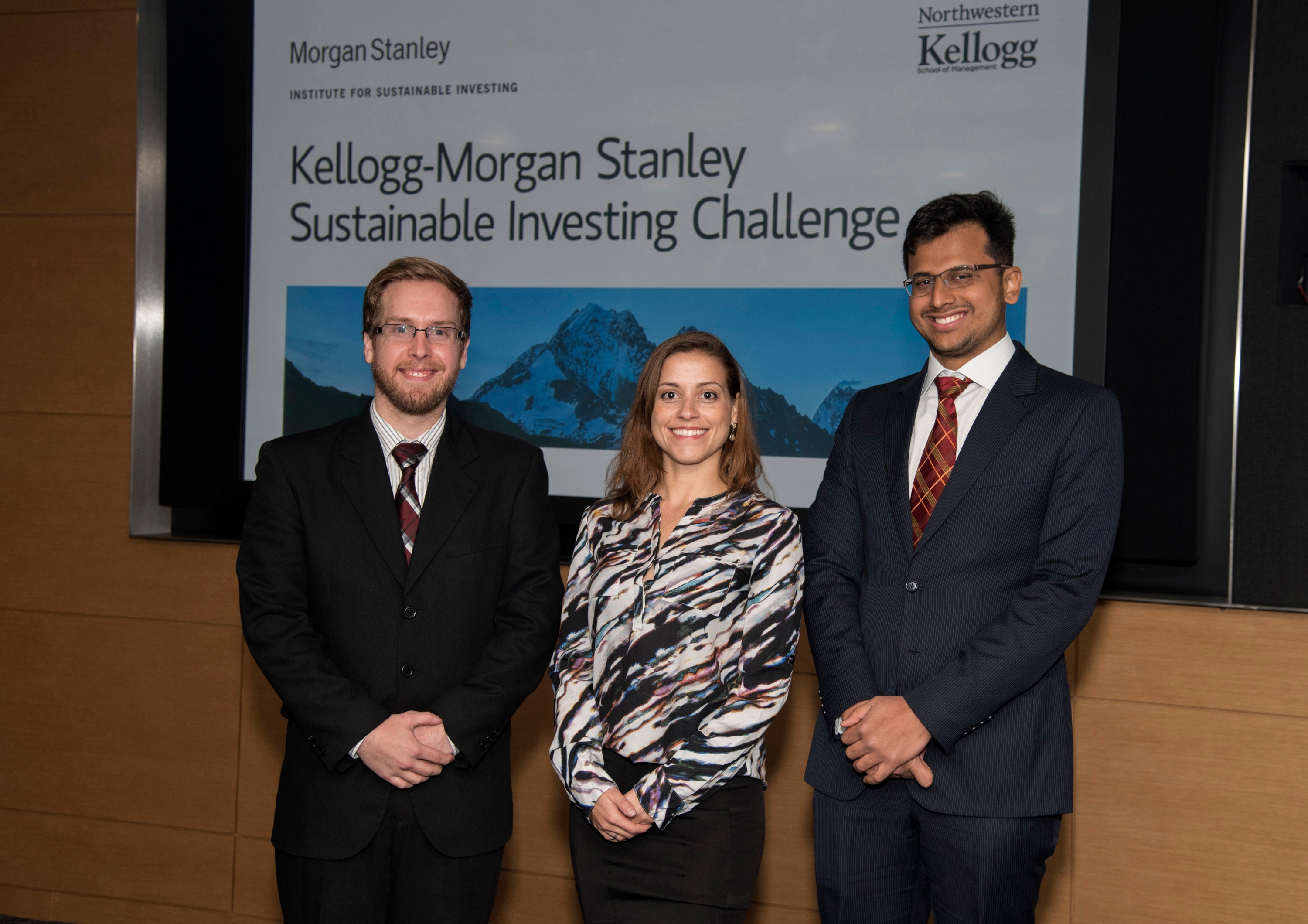 (3BL Media/Justmeans) – The Kellogg-Morgan Stanley Sustainable Investing Challenge is a competition encouraging teams of MBA students to create institutional financial products that tackle social and environmental problems. Nearly 200 students from 37 schools in 29 countries submitted proposals this year. This year's winner is EduIndia, with their idea to improve access to education in India. EduIndia, a three-person team from Northwestern University beat stiff competition from nine other finalists. As first prize winners they will receive $10,000. Runner-ups are awarded $5,000 and the Rockefeller Foundation is sponsoring a one-year fellowship to give one of the finalist teams a boost.
Environmentally-focused land and conservation projects have been popular submissions in the past for the Challenge. While, this year's contest highlighted the social side of sustainable investing, as it recognises that sustainable investing requires a pipeline of innovative thinkers and seeks to identify, and nurture the next generation of business leaders. Audrey Choi, CEO of Morgan Stanley's Institute for Sustainable Investing, says, "Millennials are taking notice and action on how to address our social and environmental issues through financial vehicles and are a key growth driver for sustainable investing. The students in this year's Challenge are leading the way for the next generation to creatively combine their passion for social change with the goal of achieving competitive financial returns."
EduIndia's idea offers loans at 14 percent interest to low-fee schools, repayable based on the schools' monthly incomes over three to seven years. It gives a lower rate than other lenders because EduIndia would also partner with local microfinance institutions offering student tuition loans, securing schools' income streams. EduIndia believes that its low-cost debt fund would enable high-quality but financially strapped schools to boost their capacity, weather revenue fluctuations from low-income students' ability to pay tuition. Ultimately improving long-term revenues by boosting enrollment and curbing dropout rates. Schools struggle to find affordable financing to effectively serve the 40% of Indian students who rely on them for an education.
Other 2017 finalists included a real estate fund to repurpose military containers into affordable housing for internally displaced people in Afghanistan and an exchange-traded fund (ETF) that encourages shareholder activism and proxy-voting to improve businesses' positive environmental, social and governance performance. The ETF, proposed by students of Duke University's Fuqua School of Business, was a first for the Challenge; it echoed with recent headlines about how asset management giants like State Street and BlackRock are using their shareholder influence to drive boardroom change and corporate responsibility.
Currently, there is an increasing number of institutional investors seeking sustainable investment opportunities for their portfolios. They want to find investment strategies that can meet their organisation's financial needs by investing in funds, investment vehicles, or direct investments that are consistent with the principles of sustainability and impact. This Challenge is focused to discover these types of investment concepts. It encourages entrants to think beyond social enterprises, venture capital fund vehicles and strategies. It wants ideas using finance and investment tools, creating new solutions to environmental or societal challenges.
Photo Credit: Morgan Stanley