Reynard Loki is a Justmeans staff writer for Sustainable Finance and Corporate Social Responsibility. A co-founder of MomenTech, a New York-based experimental production studio, he writes the blog 13.7 Billion Years and is a contributing author to "Biomes and Ecosystems," a comprehensive reference encyclopedia of the Earth's key biological and geographic classifications, published in 201...
Bill Clinton: Collaboration, Sustainability and Innovation Are Key to America's Economic Recovery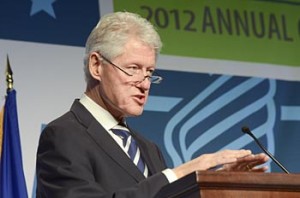 Bill Clinton has called for a more innovative and sustainable future for America. So far, the response has been strong

At the Second Annual Clinton Global Initiative America (CGI America) meeting last week, former president Bill Clinton announced the impact of the multi-stakeholder gathering he founded to help the nation's economic recovery.

Focusing on cross-sector collaboration involving public, private, civil and non-profit sectors, the initiative is meant to foster sustainable job creation, workforce development, economic growth and innovation.

This year, the CGI participants announced 58 new commitments that will create or fill more than 530,000 jobs.

FROM GREEN JOBS TO HEALTH SERVICES, THE NUMBERS LOOK GOOD

Taken together, these individual initiatives, when fully funded and implemented, will:

- create over 32,000, including 6,600 green jobs
- fill over 500,000 jobs with veterans and their family members
- give nearly 68,000 people improved access to capital or financial services
- give over 117,000 people access to job training and certification
- save nearly 760 million kilowatt hours of energy
- invest more than $84 million of new capital in green initiatives
- give over 12,000 people increased access to health services

CGI America estimates that almost 3.9 million Americans will be positively affected because of these programs.[1]

FROM CREATIVE PARTNERSHIPS TO NEW COMMITMENTS

"This year's CGI America participants have formed creative partnerships and come up with inventive strategies to accelerate employment, start new businesses, and prepare Americans to take the jobs that are open in the new U.S. economy," said Clinton.[2]

The new commitments announced at the meeting covered a lot of ground, including expanding small business microlending, developing a new digital workforce, training veterans in energy efficiency jobs, boosting financial literacy and youth education, engaging corporations in entrepreneurial education and developing green buildings.

A TALE OF TWO PRESIDENTS

The announcement followed a bleak report given by the Labor Department on June 1, which said that U.S. employers added a meager 69,000 jobs to their payrolls in May, the lowest monthly amount in a year. The department also downgraded their original numbers for the previous two months to 49,000 fewer new jobs created. From April to May, the jobless rate rose a tenth of a percent to 8.2 percent.[3]

While a former president happily delivered the CGI America numbers, the jobs report was not welcome news for the current president, particularly in an election year: Obama's re-election hopes are tied to the state of the nation's economy. Still, no president has the power to create jobs, though many voters may think otherwise.

"The most popular types of jobs programs involve state tax breaks or subsidies that seek to seduce a company from one state to another," noted Adam Davidson, co-founder of the NPR series Planet Money, in The New York Times in November. "[S]uch policies don't add to overall employment so much as they just shuffle jobs around."[4]

UNITED WE STAND, DIVIDED WE FALL: SHARED SUSTAINABILITY

That's why the kind of public-private partnerships (PPPs) and cross-sector collaborations promoted by Clinton's CGI America are necessary.

"From nearly $176 million of new capital that will go to small or medium enterprises, to the nearly 150,000 students who will gain access to STEM education opportunities, this year's meeting has demonstrated the important advances we can make when working together towards a shared prosperity," Clinton said.[5]

And for there to be a shared prosperity, there must be the implementation of sustainable finance. The second day of the meeting opened with a plenary session entitled ""Sustainable Finance," which focused on sustainable access to capital to fuel the growth of existing businesses and finance new ventures. It was led by a panel discussion that included Donna Gambrell, director of the U.S. Department of the Treasury's Community Development Financial Institutions Fund; Ted Howard, executive director of the Democracy Collaborative; Jim Koch, chair and founder of the Boston Beer Company, Inc. and Lisa Hall, president and CEO of Calvert Foundation. (I wrote about the Calvert's new "WIN-WIN" impact investment initiative in April.)

The two-day meeting concluded with Clinton urging leaders to drive towards a future of innovation and sustainability. The former president must be pushing the right buttons, as CGI America has a pretty impressive track record. Since its first meeting in June 2011, participants have made over 160 commitments that, when fully funded and executed, weigh in at the tidy sum of $12.8 billion. Not bad for less than year's work.

###
NOTES
[1] PRNewswire.
President Clinton Announces Impact of Commitments Made at the Second Annual Clinton Global Initiative America Meeting
. June 8, 2012. Accessed June 10, 2012
[2]
Ibid
.
[3] Lucia Mutikani.
U.S. job growth trips again, opens door to more Fed moves
. Reuters. June 1, 2012. Accessed June 10, 2012.
[4] Adam Davidson.
Can Anyone Really Create Jobs?
The New York Times
. November 3, 2011. Accessed June 10, 2012.
[5]
Ibid
., 1.
image: Bill Clinton (Export-Import Bank of the United States)