As a Justmeans staff writer for the Sustainable Foods editorial department, I explore the disparity between consumerism and independence through the topic of sustainability. As a self-described 'urban homesteader' I look to find the balance between a sustainable lifestyle and use of corporate convenience. I don't necessarily want to live without electricity, but I want to be comfortable if eve...
Food Safety Regulation: S510, Tester Amendment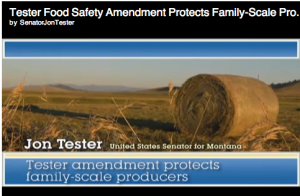 Two bills are headed to the Senate floor in the name of Food Safety: The HR 2749 and the S510. HR2749 has passed the house on July 29; S510 is a senate bill that has been sent to cloture on the 18th of November.

The Tester Amendment, written by John Tester (D-MT), and according to Senator Tester's website, even has the support of big hitters in the local, accountable food field, Eric Schlosser & Michael Pollan, quoted as saying, "S510 is the most important food safety legislation in a generation. The Tester amendment will make it even more effective, strengthening food safety rules while protecting small farmers and producers. We both think this is the right thing to do."

But don't take Tester's, Schlesser's, Pollan's or my word for it: the entire amendment by .pdf and a summary .pdf is also available to be read for your own research.

What the amendment aims to do is protect the small farmer from unnecessary regulation by the Food and Drug Administration. That's not to say that small farms have free reign over their crops: they are still bound to local and state laws regarding food safety. But the difference between a small farm operation which is primarily serviced by hand and eye as opposed to a commercial production facility where enormous mechanized equipment shuffle through tons of produce is quite serious.

Original opposition to the amendment was marked by a distance limitation to small farm production. The FDA has a 400 mile radius as a "local" producer, but Tester and his opponents hashed it out to be 275 or state boundaries, whichever is smaller. It may not make it very fair for some larger small farms in states like Rhode Island, Deleware or New Jersey, but most small producers stay within their sight anyway.

Tester explains it best himself claiming that "the traceability of impact is immediate" within small farm production. In other words, mistakes are more easily and more effectively caught before they go to market. The problem with huge, mechanized operations is that if they take, for example, lettuce from 100 large farms and one of those farms (just one) has infected produce, all of a sudden all of the produce is affected. Once it's shipped out, which is often very quick since produce has such a short shelf life, it may prove to be very difficult to recover safely before reaching the plates of the masses.
Food safety is important for all people, and especially in countries where mechanized production facilities that supply the bulk of grocery store shelves because packing and shipping have to happen very quickly. The truth remains that there exists a risk no matter where you get your food, but if we can keep better regulation on enormous production factories, we may be able to reduce the number of food-borne illness cases significantly, which benefits everyone giving a better probability of food safety within reach.
Photo credit: still from John Tester's statement on the Tester Amendment to S510