I love being a staff writer for 3BL Media/Justmeans on topics - Social Innovation, Social Enterprise and Social Entrepreneurs. When I am not writing for 3BL Media/Justmeans, I wear my other hat as owner of Serendipity PR. Over the years I have worked with high-profile, big, powerful brands and organisations within the public, not-for-profit and corporate sectors; and won awards from my industry....
Technology: TalkTalk Digital Heroes Awards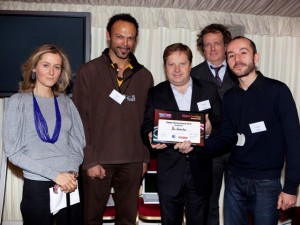 On 6 December I braved the cold to attend the TalkTalk Digital Heroes Awards at the House of Lords, London, which is the only scheme in the UK to reward dedicated, caring and above all entrepreneurial individuals who are using digital technology to benefit their local communities! Each winner receives a prize fund of £5,000. The 36 shortlisted entries from across the UK received an overwhelming 140,000 votes overall from members of the public and the individual with the most votes in each region were crowned a TalkTalk Digital Hero.
The judging panel for this year's awards included Martha Lane Fox, UK's Digital Champion Martha Lane Fox

; Charles Dunstone, CEO, TalkTalk;

and Richard Wallace, editor, The Daily Mirror who were all at the event.
There were 12 very varied projects that won awards yesterday and here are some that struck a chord with me...

Wendy Maxwell, a Norwich resident was one TalkTalk Digital Heroes for her work in her local area using technology. Wendy has worked tirelessly on the Computers4carers project, which has been developed through the website Chill4us. Computers4carers aims to get carers online and in touch with each other, giving them the access to the outside world that they desperately need.

I have to mention Laurence Hall and Alistair Davies from Wales, recognised for their work with
African primate sanctuaries by harnessing the latest communications and multimedia technologies to highlight and broadcast their work to a globally. Laurence set up the 'Great Primate Handshake' with fellow Vervet Monkey Foundation volunteer Alistair.

Then there is Ian Franzen who

works at the Lowton Community centre in the North West of the country, providing activities and education in art, music, health, drama and sport for young and vulnerable people. Ian's project has been such a success that he has been asked by the police to extend the provision. Ian

will use the grant

to provide modern IT and presentation equipment, computers and the internet in order to attract more users. I also have to introduce you to

Tami

McMahon

, from Ham Green, near Bristol, who is Head of Fundraising at Penny Brohn Cancer Care. A charity that provides patients with the practical tools they need to regain control of their lives. Tami says the grant would help create a new web-based platform for lifestyle and wellbeing advice and information for people living with cancer.

While Ben Richardson in London was crowned the over-arching 2010 Digital Hero for his work with The Connection

at St Martin's a project which aims to give homeless people new skills in digital media to help them get their lives back on track; and with the grant that Ben has won it will enable the project to provide more training and develop their photography workshop into a social enterprise scheme. In all a very inspiration day show casing the best of British and how local communities are embracing and using

digital technology to bring about positive social change.

Photo Credit: TalkTalk Digital Heroes