As a Justmeans staff writer for the Sustainable Foods editorial department, I explore the disparity between consumerism and independence through the topic of sustainability. As a self-described 'urban homesteader' I look to find the balance between a sustainable lifestyle and use of corporate convenience. I don't necessarily want to live without electricity, but I want to be comfortable if eve...
USDA Gives The Go-Ahead to GM Sugar Beets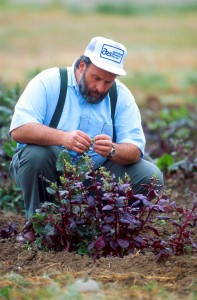 It's not too much of a surprise that the USDA would give the okay to GM crops in our industrial food complex. The fact that there hasn't been ample testing on byproducts, effects on the environment, effect on biodiversity or the effects on the bodies of the consumers, apparently, are not as important as Biotech Company pocketbooks.

The blog for Organic Seed Alliance (written by Kristina Hubbard) had this to say about GM Sugar Beets:

Organic Seed Alliance, with the help of the Center for Food Safety, enjoyed a major success in federal court this year in keeping genetically engineered (GE) sugar beets out of American fields. Though a legal victory, organic and non-GE seed producers could still find themselves fearing contamination this spring. The U.S. Department of Agriculture (USDA) is proposing commercial production of GE sugar beets - before the Environmental Impact Statement (EIS) ordered by the court is completed - even though the court determined that GE sugar beets are once again a regulated crop, and revoked approval for planting pending the results of a full EIS (expected in 2012).
What Organic Seed Alliance and organic farmers alike would like to encourage is contact with state senators about the issue. The petition by (guess who) Monsanto can be
read in full here
. The petition states specifically, "Monsanto Company and KWS SAAT AG; Availability of an Environmental Assessment for Supplemental Request for Partial Deregulation of Sugar Beets Genetically Engineered To Be Tolerant to the Herbicide Glyphosate"
In essence, Monsanto and KWS SAAT AG wants to use the American soil and the American economy as an expensive test account so they can spray more pesticide. Really. Americans already consume too much sugar as it is; though that's not really the point of this discussion. The point is that we should be encouraging biodiversity at every possible interchange in our system.
Monocrops, the use of land for solely one variety of one crop, has never proven in its history to be a good idea. Just ask the 1.5million Irish in the mid 19th-Century. I'm sure if they could have told it, it would have been an incredible and heartbreaking story from the first-person perspective. What better function does history serve than to teach us about the future?
Don't let any company take our right to biodiversity away from us with genetically modified crops that are simply resistant to pesticide use. It does none of us any favor, especially when there are so many
other ways to control pests
.
This petition is open for comment until December 6th, about a week from today.
Contact your senators
by phone or
use this e-form
to express your opinion on GMO Sugar Beets.
Photo credit: public domain, USDA