Harry Stevens is a freelance reporter covering climate change, corporate social responsibility, social enterprise, and sustainable finance. Harry has contributed to several media outlets, including Justmeans, GreenBiz, SocialEarth, and Sustainablog. You can follow Harry on Twitter: @Harry_Stevens...
Whirlpool Continues Commitment to Habitat for Humanity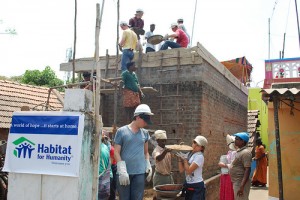 Whirlpool Corporation, the $8.75 billion maker of home appliances, is teaming up with Habitat for Humanity to build homes for seven families across the Midwest. The builds will take place in communities where Whirlpool has manufacturing, customer service and administrative offices.

"Together with Habitat for Humanity International and the local Habitat affiliates, we're proud to announce our list of build locations this year," said Tanu Grewal, senior brand manager at Whirlpool, at a ceremony in Benton Harbor, Mich., where one of the houses will be built.

The other houses will be built in Cleveland, Tenn.; Tulsa, Okla.; Ottawa, Marion and Findlay, Ohio; and Bloomington, Ind., as part of a campus build at Indiana University.

2013 marks the fifteenth year of Whirlpool's partnership with Habitat for Humanity, a global nonprofit housing organization that builds and rehabilitates homes. Intrinsic to Habitat's approach to its work is a studious avoidance of "charity." Beneficiaries of Habitat's work contribute "sweat equity," helping to construct their own future houses.

Since 1999, Whirlpool has donated more than $78 million in cash and product to support Habitat for Humanity's mission. In addition to sponsoring the construction of more than 100 homes, Whirlpool has donated a range and ENERGY STAR qualified refrigerator to every Habitat home in the U.S. in Canada, amounting to a contribution of more than 150,000 appliances.

"Habitat for Humanity has become part of the DNA of our company," said Jeff Terry, Habitat for Humanity Senior Program Manager for Whirlpool, back in 2005 when the company helped Habitat build its milestone 200,000th house in Knoxville, Tenn.

Habitat for Humanity has served more than 600,000 families across the globe since its founding in 1976. Still, substandard housing remains an endemic problem worldwide. About 1.6 billion people live in substandard housing and 100 million are homeless. One billion people, a full 32 percent of the global urban population, live in city slums. In the United States alone, 95 million people, or nearly one-third of the total population, face housing problems.

"At Whirlpool, we are committed to bringing simplicity to life, and through this partnership with Habitat, we are able to do just that by easing the process of becoming a homeowner for partner families," said Grewal.

Among Whirlpool's other major contributions to Habitat's mission include engaging 8,000 of its employees to volunteer, hosting country singer Reba McEntire's U.S. concert tours to help raise nearly $1 million for Habitat, and helped secure a $15 million sponsorship from Valspar Paints.

Jonathan Reckford, CEO of Habitat for Humanity International, lauded the support of Whirlpool and other corporate sponsors. "The support that long-standing partners, like Whirlpool, give to Habitat is critical to our affordable housing efforts around the world," he said. "Hosting these builds demonstrates Whirlpool's sincere commitment to strengthen families and communities."

Whirlpool's corporate social responsibility work has earned a slew of recognitions in recent years. In 2011, Fortune Magazine ranked Whirlpool first in its World's Most Admired Companies list in the Home Equipment, Furnishings industry. Whirlpool also ranked eighty-fifth on the 2011 Corporate Responsibility Magazine 100 Best Corporate Citizens list. Whirlpool has been included in that list nine out of 12 years.

Image credit: US Consulate Chennai, Flickr
magdaline 01pm March 07


GREETING, magdaline_buba@yahoo.com Hello my dear friend i am Miss magdaline, how are you?please my dear i know you may be surprise,i want ...