A Future Fueled By Tequila?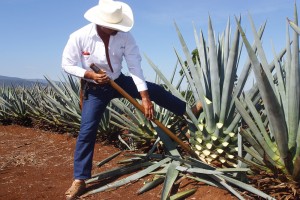 Corn, soy, and algae get all the attention, when the "It's 5 o'clock somewhere" mentality could significantly alter the biofuels market. Agave, the plant that produces tequila, has all the right properties to usher in an "energy revolution" according to leading biofuel scientists. Agave grows in semi-arid regions, requires hardly any inputs in terms of fertilizers, pesticides and water, and is hardy enough to endure temperature extremes and drought. Forget the government subsidies, this plant has the potential to provide alternative fuel sources to regions not conducive to corn and soy, its habitat does not compete with global carbon sinks, and at present a large portion of the plant is wasted during tequila production, leaving existing reserves ready for production today.
Alternative Fuels are not Necessarily Renewable
One of the major barriers to truly renewable corn, soy, and wheat production are the input and location requirements. When grown according to its natural cycle, the soil takes 5-7 years to regenerate after 1 season of corn. Therefore, corn requires an extensive amount of fertilizers, pesticides, and numerous other chemical inputs to keep it healthy and its yields high. It also absorbs a large government subsidy along with soy. Corn and soy have been touted as the alternative fuel sources of the present and future, yet without extensive fossil fuel and government inputs the crops are highly vulnerable to failure.
Agave on the other hand, takes in very little water, is incredibly hardy, and can easily grow on otherwise un-farmable land. According to Arturo Velez from the Agave Project, the most productive Agave species can produce twice the biomass (dried) as hybrid poplar, three times the sugar of sugarcane, and four times more cellulose than eucalyptus while capturing a significant amount of CO2. With semi-arid describing nearly 20% of the World, these plants have a distinct advantage over more care-intensive crops such as corn and soy. Velez states that Mexico is home to 80 million acres of potential agave farmland that would produce 5,600 million tons of dry biomass, or the equivalent to meeting the US's transport fuel needs.
No Compromise for Carbon Sinks
One of the largest points of contention for devoting new land to alternative fuels is the trade-offs. Slash and burn farming erases necessary carbon sinks from the world's resources to support a short-term fuel habit. The amazing and unexpected benefit of turning to a semi-arid plant is simple, location. Moving away from biodiversity hotspots, like tropical rainforests, and toward more arid regions removes this threat. This partnered with a significant reduction in inputs including water and fossil fuels helps agave outrank corn and soy. It also opens up the possibility for fuel production in several developing countries that either currently make tequila, or have abandoned agave fields from the days of sisal fiber production. Places like Mexico, Australia, and Africa are projected to be the potential Agave hotspots.
Business Win-Win
For established industries, like Tequila, that use the agave plant, this opportunity presents a win-win situation. First, it takes the food versus fuel debate off the table, since tequila, although delicious to some, is not considered a staple nor does the biofuel production stop tequila production. In some tequila plants, it is estimated that up to 80% of the plant is wasted, leaving plenty to be redirected toward biofuels production. For many places it also means that new land will not be put into production, saving businesses significant initial input costs. For large companies like Brown-Forman and Fortune Brands that own Tequila businesses, this present an interesting business proposition to further expand their market share into the newest renewable on the market.
Yet this development is not without its warnings. Agave investors are cautioned to watch for over-exploitation of the wild species and to build sustainable agriculture management principles into their future plans. Everything in balance seems to be the message, and an apt one at that.