After Divesting from Fossil Fuels, Unity College Will Focus Entire Curriculum on Climate Change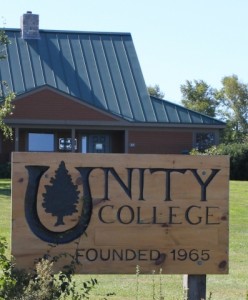 Unity College, the small school in rural Maine that made headlines last November when its board voted to divest its endowment from fossil fuel companies, has become the first U.S. institute of higher education to focus its entire curriculum on climate change.
The college said it "has tied every aspect of its curriculum to the mitigation of global climate change." Unity's multidisciplinary approach to sustainability science ensures that every Unity student, whether majoring in conservation law enforcement, biology or environmental writing, will incorporate skills to help them address the mitigation of climate change.
There is broad consensus in the scientific community that climate change is occurring due to human activity, and that the impacts of climate change will be catastrophic if carbon emissions are not drastically reduced in a relatively short period of time.
Still, Business remains the most popular undergraduate major in the U.S., according to the National Center for Education Statistics, which does not even keep data on Environmental Science majors. Unity hopes its multidisciplinary approach to sustainability science will serve as a model for other schools.
"We really believe that what we're doing is... going to serve as a template for others to follow," says Mark Tardif, Associate Director of College Communications.
Unity's decision to focus its curriculum on climate change mitigation is the culmination of several steps the college has taken to increasingly focus on the impacts of global warming since the arrival of President Stephen Mulkey in 2011.
Mulkey, an environmental science researcher and university administrator whose enthusiasm about climate change attracted a $10 million endowment gift from an anonymous donor, has outspokenly targeted climate change mitigation as the proper subject of higher education.
"We are running out of time," wrote Mulkey in a blog post announcing the Unity board's decision to divest the college endowment from fossil fuels. Mulkey noted that the world is currently emitting greenhouse gases at a rate that will increase global temperatures by more than 5 degrees Celsius by 2100.
"This will be a planet that is not consistent with our civilization and the impact will be largely irreversible for a millennium," he wrote. "I don't know how the stakes could get any higher."
In November, Unity was the first college to divest its endowment from fossil fuel companies as part of a nationwide campaign organized by 350.org, an organization that raises awareness about climate change.
Thus far, only one other school, Hampshire College in Amherst, Mass., has divested its endowment from fossil fuels, but Jamie Henn, 350.org's Communications Director, says that 230 campuses in around 40 states have active student campaigns lobbying their boards for divestment.
Those schools include large state schools like the Universities of California, Colorado, Michigan and Wisconsin as well as smaller schools like Middlebury, Swarthmore and Tufts.
"Higher education is positioned to determine the future by training a generation of problem solvers," wrote Mulkey. "As educators, we have an obligation to do so."