AT&T Taps Leading Environmental Group to Address Water Efficiency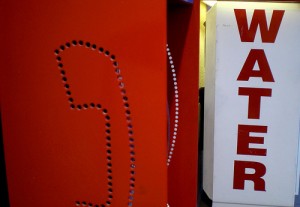 AT&T has embarked on ambitious plans to improve water efficiency across its operations. The company has partnered with the Environmental Defense Fund (known by its acronym EDF), a nonprofit whose "mission is to preserve the natural systems on which all life depends," to drastically increase the efficiency with which the company uses water in its operations.
Water scarcity looms as an increasingly serious threat as cities and populations grow while water tables around the world fall. According to the World Health Organization, water scarcity affects one in three people worldwide, who are forced to rely on unsafe drinking water while suffering exposure to diseases like cholera, typhoid fever and dysentery.
Seventy percent of the world's water is used for agriculture and irrigation, and global food prices are spiking as water tables around the world are increasingly depleted. For example, both the Ogallala Aquifer, which provides water to about 27 percent of U.S. irrigated farmland, and the Upper Ganges, which sustains farm irrigation in both Pakistan and India, are depleting at an alarming rate. According to the Washington Post, the Ogalla is dropping by as much as two feet per year, and the Upper Ganges would need over 50 times as much rain as it currently gets to meet area agricultural demand.
Major corporations are major consumers of water and can make significant contributions to global water efficiency under the right leadership. While food and beverage companies are often identified as the major culprits when it comes to water depletion, companies operating in other economic sectors consume vast quantities of water as well.
In a recent article on TriplePundit, John Schulz, Director of Sustainability at AT&T, discussed the demands that AT&T's operations place on water resources.
"This idea of 'embedded water' represents the sum of the water that is used in every step of a product's life cycle," wrote Schulz. "You usually hear about embedded water related to food and drink, and that is fairly intuitive because crops demand water, but there seems to be less public dialogue about the embedded water in other items we use each day like electronics and communications technologies."
Schulz points out that every time a phone connects to a network, the signal flows through a web of equipment housed in facilities that require a stunning quantity of water to keep the equipment cool. The U.S. Environmental Protection Agency estimates that a quarter of the water used in U.S. buildings is spent on cooling systems.
To address the challenge of water efficiency, AT&T has tapped the knowledge and resources of EDF to audit and improve water usage across the company's operations. AT&T and EDF are running cooling efficiency pilots to improve water treatment technologies and operations practices while increasing "free air" cooling.
The goal is to significantly reduce AT&T's 3.4 billion gallon water footprint. Already, EDF has discovered that if certain operational improvements were adopted across all commercial office buildings and manufacturing facilities in the Dallas/Fort Worth area, the water savings could be over 12 billion gallons per year.
"Smart water management not only makes good environmental sense, but it makes good business sense as well," wrote AT&T's Monica Liming-Hu in a recent blog post. "And this project with EDF is targeting a way to make that business case even more compelling."
AT&T will announce the results of the pilot program in 2013. The company also publishes a report on its sustainability accomplishments each year.
Image credit: timlewisnm, Flickr