Bike Share Scheme Will Put New York City on Sustainability Lane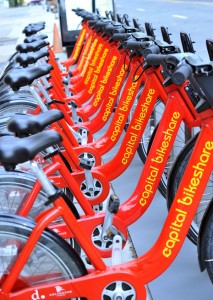 Cycling is arguably the most sustainable form of transportation (after walking, of course). It's emissions-free, it provides an exercise opportunity and it brings life to the streets. In cities like Amsterdam and Berlin, cycling has for long been a part of the culture.
But other cities are starting to catch up. Anyone who's been to London (UK) recently might have noticed that the English capital has become much more bicycle friendly since the launch of a bike sharing program called Barclays Cycle Hire.
It's a self-service, year-round program whereby members can take a bike, ride it where they want to and then drop it at the nearest docking station to be used by another person. Membership is available online and the annual fee is £45 (US$70.70). Shorter lease options are available as well.
And now it's New York City's turn to cycle its way to sustainability through eco friendly transportation as New York City Bike Share seems closer to becoming a reality. Although it may appear that anyone would love to have a more bike friendly city, some residents initially opposed to the plan for various reasons, including concerns that public space would be managed by a private company.
Bike share schemes rely on sponsorships and user fees, not on taxpayer's money. A private company implements it and runs it, but the city oversees the quality of the program and makes sure the community is involved in the planning process.
A recent survey indicates that over 60 per cent of New Yorkers are in favor of the project. Meanwhile New York City's Department of Transport has been collecting citizens' suggestions as to where they would like stations to be placed. Interested citizens can also attend events, open houses and workshops that take place throughout the city, including opportunities to try out the bikes and give feedback. The idea is to get the public to shape the project.
The New York City Bike Hire scheme will include 600 stations and 10,000 bikes and will reach from the Upper East and Upper West sides down to the tip of Manhattan and over the bridges into Brownstone Brooklyn and then all the way to Greenpoint and Crown Heights, said the New York Observer.
Alta Bike Share has been selected to install and manage the system. It is the same company that launched the successful Capital Bike Share in Washington, D.C. in 2010 and New Balance Hubway in Boston in the summer of 2011. New York will become home to the largest bike share program in the U.S..
Users will be able to choose between 24-hour, multi-day or annual subscription options or even half-hour rentals. Monthly subscriptions will be cheaper than a monthly MetroCard, the transport department said.
To those concerned with safety, the administration says it has added over 250 miles of bike lanes since 2006 to make it safer for cyclists. There are now more than 700 miles of bike lanes all over the city, including parks and greenways. Since 2000, the number of cyclists has more than doubled while the risk of injury has fallen by 75%.
NYC Bike Share Quick Look (VIDEO)
Image credit: NY Observer