Bombardier Rides the Rails With Greener, More Efficient Rail Technology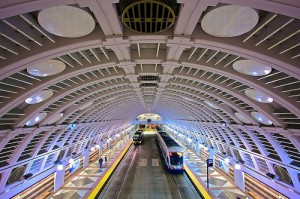 Earlier today, I took some time to give a brief run through of Bombardier's Aerospace division and their fantastic work with transforming aircraft into greener machines. While their Aerospace work is incredible, it would be a crime to neglect the work Bombardier also does for the rail industry. With headquarters in Berlin, Germany, Bombardier Transportation is leading the way with some fascinating green rail technology and with plans to continue their work as the industry develops.
Bombardier Transportation rail vehicles use a variety of methods to ensure that they operate with maximum efficiency and with the reduction of harmful emissions as a top priority. The driving force behind all of Bombardier's rail technology changes is the ECO4 plan. The ECO4 technology that is developed by Bombardier Transportation is said to focus on the four critical areas that need to be considered when developing a green vehicle which are Energy, Efficiency, Economy, and Ecology. Rail vehicles that operate using the ECO4 technology are designed to operate with maximum efficiency, reduced carbon footprints, and reduced energy consumption.
Overall, Bombardier Transportation has a significant amount of trains on rails around the world. According to Bombardier's public affairs advisor Michel Gagnon, over 100,000 Bombardier designed rail vehicles operate around the world on regional, national, and occasionally, on an international scale. Approximately 85% of Bombardier Transportation rail vehicles operate with railways operators such as national railway systems or municipal transit authorities that, in turn, operate hand in hand with public funding. Bombardier also deals with private railway operators, where some of their rail vehicles have found international routes.
Although Bombardier has plenty of rail vehicles in operation around the globe, they constantly have ideas in mind for the further developing their rail technology. To this end, Bombardier Transportation has plans to release what they call the ZEFIRO 380 Very High Speed Train. The ZEFIRO is being designed to provide maximum comfort and profitability for the operators while also being energy efficient and environmentally friendly. Once in operation, the ZEFIRO will be able to achieve a speed of approximately 380 kilometers per hour, making it one of the fastest high speed trains in the world.
With Bombardier working to improve both our skies and our rail systems with their variety of fascinating technology and environmentally sound practices, it is no wonder that they are making such an impact worldwide. Not to mention, with new aerospace and high speed rail designs ready for release in the near future, Bombardier clearly isn't giving up on blending the best of environmental friendly practices and technological advancement.
For a look at some of Bombardier's methods and business practices, check out Brian Kahn's article about Bombardier.
Photo Credit: Ivan Meljac