Communities Kick Cigarette Butts Out of the Way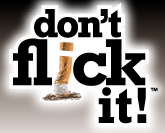 They may be smaller and deceptively less harmful than, say, plastic bottles. In fact, most people don't even view them as litter. But cigarette butts are the most-littered items in the U.S., representing nearly 38 percent of the total, according to the 2009 Litter in America study by Keep America Beautiful (KAB). Cigarette butts are not degradable, and contain plastic and metals that clog sewers and drains, and end up in the oceans, where they kill sea life. Luckily, one campaign is helping America rid itself of those stinky butts.
KAB  recently reported that its Cigarette Litter Prevention Prevention Program (CLPP) in 2012 produced an average reduction of 55 percent. 2012 marked the program's 10th anniversary, and during that period there were 195 grant-supported implementations across the country. These included downtowns, roadways, beaches, parks, marinas, colleges/universities, tourist spots, and special events.
Initially the program was funded by Philip Morris. Since 2010 RAI Services Company has provided additional funding. KAB says CLPP has consistently cut cigarette butt litter by half over the last seven years, based on local measurements taken in the first four months to six months after a program implementation.
Survey results also showed that as communities continue to monitor the program those reductions are sustained or even increased over time. For example, more than 100 communities that started programs in 2011 achieved an average reduction of 48 percent that year, and increased that reduction by an additional 17 percent when measured again in 2012.
"Through consistent and persistent public education in combination with access to receptacles, we can lessen the environmental harm cigarette litter places on our landscapes and waterways," said Matthew M. McKenna, president and CEO of Keep America Beautiful.
The program has covered 1,263 U.S. communities since its inception. Sites where an educational element was included achieved higher results. "We studied 12 sites over an 11-week period and realized a 68 percent reduction in cigarette litter at sites where we had public education, signage and ash receptacles as compared with control sites where we didn't have those CLPP program components," said Adam Roberts, executive director of KAB affiliate Hot Springs/Garland County Beautification Commission in Hot Springs, Arkansas.
The program also produces a very positive side effect: general littering also decreases at sites where it is acted out. "Ground crews and staff at every site where interventions took place commented about the reductions in cigarette litter and – as important – litter in general," added Roberts, who noted a 33 percent decrease in the amount of general litter at those sites.
In addition to Keep America Beautiful affiliates, KAB offered grants through its partnership with the International Downtown Association (IDA) and International City/County Management Association (ICMA) in 2012. In Southwest Detroit, the West Vernor and Springwells Business Improvement District realized an 81 percent reduction in cigarette litter between July and October. With 10 receptacles installed, the organization estimated it saved four hours of maintenance per week. "The impact in reducing litter through the CLPP has been astonishing," said Matthew Bihun, BID program manager.
The organization has put together a information pack on how to start and maintain a Cigarette Litter Prevention Program in the community, which can be downloaded from the Prevent Cigarette Litter website.
Image credit: Prevent Cigarette Litter