Deepwater Wind Plans to Build the Largest Offshore Wind Farm by 2015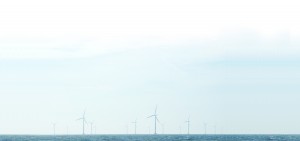 Offshore wind power has been working its way onto American coast lines for the last several years with varying degrees of success. While some areas have proved more difficult to develop offshore wind power in due to the financial constraints put on the projects, other have been blocked due to concerns over environmental changes caused by the installation or changes in the quality of life for nearby residents. Despite the setbacks, however, offshore wind power continues to remain an excellent renewable energy option that utilizes space most people really aren't going to be going into anyway. One ambitious project is currently trying to prove its worth and gain the support it needs to become a substantial source of wind based renewable energy in the United States.
Deepwater Wind, a New Jersey based wind energy company, recently announced that they have plans to build a 1,000 megawatt offshore wind farm off the coast of Rhode Island. The farm would be home to around 200 wind turbines that would be placed far enough off shore, according to the company, that they would barely be visible from the coast with a proposed distance of around 14-25 mile. The proposed farm, which will be called the Deepwater Wind Energy Center, is planned to provide renewable energy to multiple states along the coast including Massachusetts, Rhode Island, New York, and Connecticut. If it is completed, the Deepwater Wind Energy Center would be the largest renewable energy project in the Northeast.
The overall wind energy goal of Deepwater Wind is a fairly ambitious one. The company believes that the best way to utilize wind power in our country is to situate massive wind farms far enough off the coast to take advantage of the high wind speeds that are found on the open ocean. According to Deepwater, the technology they plan to use in their farms would allow the turbines to be used in water with depths ranging from 150 to 1,000 feet. Deepwater Wind also boasts that they have a significant amount of energy investors that gives them access to almost forty billion dollars.
Currently, Deepwater Wind has only gone so far as to plan the Deepwater Wind Energy Center and to apply for a lease for the ocean property they want to use. The United States Department of the Interior's Bureau of Ocean Energy Management Regulation and Enforcement has already begun the process of reviewing the lease request along with the state governments that would be taking part in the Energy Center. If the lease request is passed the construction of the Deepwater Wind Energy Center would begin in 2014 with the first turbines coming online sometime in 2015.
Until then, however, offshore wind energy supporters will just have to wait and see.
Photo Credit: Deepwater Wind