Designing Sustainability Into Fashion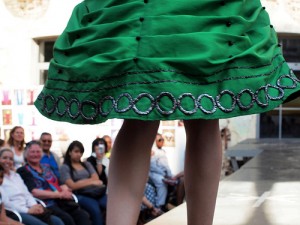 Fashion is a big part of our lives, whether we like it or not. For younger generations it is even more so, as the rise of fast food fashion brings to retailers the latest trends at the blink of an eye. This is worrying in terms of the environment, as garments are increasingly seen as disposable assets that can be replaced at very little cost for the consumer in developed countries but with a massive price tag for exploited workers and ecosystems. But things have started to change.
According to BSR, an organization that provides sustainability services and which has just completed 20 years in business, since the sweatshop scandals of the 1990s fashion brands and retailers have felt the pressure to implement factory compliance monitoring programs. They either do it independently or through initiatives such as Better Work and Fair Labor Association.
The organization added that to tackle issues related to its environmental footprint, many brands have reacted either individually or as part of an industry-wide scale with initiatives such as Sustainable Apparel Coalition and NRDC's Clean By Design. Some brands have taken one step further and tackled the problem at its root, which is on the design level. BSR mentions Polish brand Blessus which uses panels and zippers to create garments that can be reconfigured into multiple outfits to increase their longevity. Longevity is key because if a piece is made with sustainable materials but is worn only a few times, then the environmental benefit of a greener material is cancelled by its disposability.
The fashion business faces enormous challenges on its path towards sustainability due to the very vapid nature of the business. Take the example of fur, which thanks to successful campaigning has become a morally unacceptable for a large section of society and yet, in 2012, catwalks at main fashion weeks looked like wildlife cemeteries. In Britain, textile purchases have increased by 60 percent and it is estimated that British consumers throw away more than a million tonnes of textiles in the form of clothes and other related products every year. It has become the country's fastest growing waste stream.
Therefore part of the efforts towards fashion sustainability should include recycling. The New York Times reports that the data from the Bureau of International Recycling indicates that one kilogram (2.2 pounds) of collected used clothing can prevent 3.6 kilograms (7.9 pounds) of CO2 emissions. It also saves 6,000 (1,600 gallons) liters of water, 300 grams (10.5 ounces) of fertilizers and 200 grams (7 ounces) of pesticides.
At the consumer end, the best advice is to prize quality over quantity (do we really need 30 T-shirts?) and support those fashion brands that are making genuine efforts to redesign their business according to the principles of sustainability.
Image credit: Lieven Soete