Endangered Species Chocolate: Impressive Business Model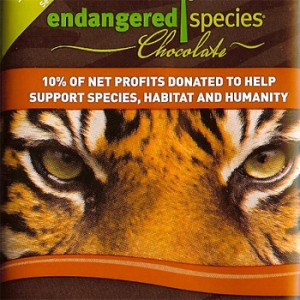 Cacao is an enormous industry. Because cacao is a tropical crop, non-tropical countries have an added responsibility to ensure that the trafficking of cacao is done humanely and sincerely including fair trade and sustainable agriculture practice.
Endangered Species Chocolate addresses  some of the key concerns of the conscientious consumer in the luxury commodity market. First, they are donating 10% of their annual net profits to conserve species and habitat of the cocoa plant. They seek farmers that practice sustainable and organic farming methods. But even more importantly than all of that, the "Cacao used to create our All-Natural and Organic chocolate products is grown on farm cooperatives that foster responsible labor practices, community enrichment and sustainable farming.  ethical trade criteria ensure fair wages for cacao farmers.  No slave labor is used in the growing and harvesting of cacao used in chocolate."
<object style="height: 390px; width: 640px"><param name="movie" value="http://www.youtube.com/v/h2ZsdnWNDq0?version=3"><param name="allowFullScreen" value="true"><param name="allowScriptAccess" value="always"><embed src="http://www.youtube.com/v/h2ZsdnWNDq0?version=3" type="application/x-shockwave-flash" allowfullscreen="true" allowScriptAccess="always" width="450" height="300"></object>
It seems like Endangered Species has all sides covered: on their FAQ page from their website: The cacao used to create the Endangered Species Organic Chocolate comes from ethical trade, Rainforest Alliance Certified™ farms in Sacha, Ecuador.  The All-Natural Chocolate is sourced from ethically traded farms in West Africa. The All-Natural is not organic, but is grown with as little chemical use as possible.They have vegan chocolate and even many gluten-free options. With all the food sensitivities in the consumer market today (both physical and social), it's good to see a company cover as many angles as possible while focusing on the accountability of its product.
All of this sounds so good, I worried that it might be too good to be true. So I looked around to see if I could find a "bad review" of the company, but all I found were good reviews, including this one where Kim Manley Ort gives her top ten reasons she loves ES Chocolate. Even The Greenists gave it a thumbs up.
Learn more about sustainable business models like Endangered Species at the DC Certification Consumption and Change Conference, which brings together 150 thought leaders from social enterprises, leading brands and certifying bodies for a day of thought-provoking panel discussions concerning the future of certification.