Google's Sustainable Energy Portfolio Reaches 2 GW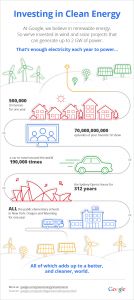 Google has further increased its renewable energy portfolio with a $200 million equity investment in a 161 MW wind farm in West Texas. The Spinning Spur Wind Project is located in Oldham County, which Google describes as a wide open, windy section of the Texas Panhandle located about 35 miles from Amarillo. It can generate enough electricity to power 60,000 homes.
The new facility will be managed by EDF Renewable Energy, and will sell energy to SPS, a subsidiary of Xcel Technology that serves Texas and New Mexico. The facility is scheduled to be up and running by the end of 2013. EDF purchased the wind farm last January from Austin-based Cielo Wind Power for $322 million in order to begin construction and qualify for several government incentives scheduled to expire by the end of 2012.
The accumulated total of Google's renewable energy assets is now 2 GW, which is the equivalent to the electricity necessary to power 500,000 homes.
Spinning Spur is the 11th renewable energy investment the company has made since 2010. These include the the Atlantic Wind Connection, which has received permission to begin permitting, an important step in advancing the construction of the United States' first offshore backbone electric transmission system. Another project is Shepherds Flat, one of the world's largest wind farms with a capacity of 845 MW. It became fully operational in October.
"We look for projects like Spinning Spur because, in addition to creating more renewable energy and strengthening the local economy, they also make for smart investments: they offer attractive returns relative to the risks and allow us to invest in a broad range of assets. We're also proud to be the first investor in an EDF Renewable Energy project that is not a financial institution, as we believe that corporations can be an important new source of capital for the renewable energy sector," Google wrote in its blog.
Image credit: Official Google Blog