Guess How Many Calories Are In This Meal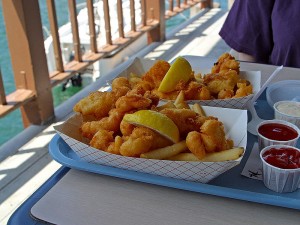 Last year's American health care reform bill has faced controversy over providing medical care to uninsured and underinsured patients, but one of the lesser discussed items of the bill is a mandate for restaurant chains with more than 20 locations to post their calorie count on their menu items. The FDA has postponed issuing guideline citing the "complexity" of the situation, so for now, you will continue to have to guess how many calories are in the meal you purchased.
The FDA issued a statement saying, "We expect only a short delay in getting these documents out, and it is a reflection of the complexity of this issue, but most important an indication that the FDA is willing to work with all interested parties to ensure the best policy is presented," the FDA said. "We are committed to helping the public get clear and simple information about the food they buy and using a common sense approach to implement this law."
Although the FDA cites "complexity", some chains have already been able to make the change, including Panera Bread. Furthermore, in New York City, restaurants are already required to post their calorie count on their menus. If you visit the websites of most of your favorite restaurants the calorie counts are already available, which begs the question, what exactly is so complicated?
The law also includes convenience stores, movie theaters, bakeries, cafeterias, airlines and trains, food carts, and vending machines, which certainly adds a wrinkle to the plan. Obtaining accurate calorie count, and overhauling printed materials can be a cost burden to the guy selling hot dogs outside of your office. Grocery stores will now have to post calorie counts for those hot foods that we smell when we go in to pick up a box of cereal.
Although the FDA is supposed to be an independent government body, movie theaters have hired lobbyists to fight the mandate. The underlying fear is that if moviegoers know that a large popcorn can be upwards of 1000 calories, they may just opt for the movie. Theater owners could then lose between 35% and 40% of their profits. However, the jury is still out as to whether consumers are changing their habits based on calorie counts being posted. Results released from a study by NPD found that customers continued to order high-calorie items, resulting in only a small calorie difference (approx. 200 calories). In addition, customers ordered the same amount of items as they had without knowing the calorie count. A study at Ohio State University, had different results: although students at a university dining hall chose lower calorie options, the bottom line didn't decrease.
Photo by Jon Sullivan