IBM Helps California's Wine Country Use Water More Sustainably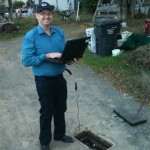 IBM and the Sonoma County Water Agency (SCWA), which supplies which supplies water to more than 600,000 people in the heart of Northern California's wine country, have teamed up to address a very pressing issue: water conservation.
The program uses analytics technology to help Valley of the Moon Water District (VOMWD), a purchaser of wholesale water from SCWA, to reduce water loss. The process involves optimizing the setting of the pressure reducing valves at the entrance to their distribution network based on data from existing sensors as well as from SCADA, billing, pressure gauges, and flow loggers throughout the water system. The new program builds on an existing IBM-SCWA water management collaboration.
Water waste is a major global problem that costs the world a total of US$14 billion annually. The U.S. Environmental Protection Agency says that water pipes in the country are getting old (some of the 880 miles of water pipes are older than a century) and can be a source of water loss.
"We're helping SCWA and Valley of the Moon to more efficiently analyze data, anticipate problems and manage resources," said IBM Smarter Water Program Director Michael Sullivan. "The ability to track water at such a granular level helps SCWA and Valley of the Moon make informed decisions about how to manage and conserve water along its entire lifecycle."
Developed by scientists at IBM Research – Haifa in Israel, the pressure management solution provides recommendations for water pressure adjustments based on usage, weather, and environmental conditions. The benefits of improved pressure management include reduced water loss, energy savings, and reduced wear on the infrastructure, besides an improvement in the quality and turnover of stored water.
Managing the pressure of a water system, which is comprised of pipes, valves, pumps, tanks and other equipment, is a very complex task, IBM says. If a well stops working, some water tanks will not be filled. If pressure is increased to fill those tanks, other tanks may not be emptying as often as they should to maintain a proper exchange of water and maintain required water quality. Or, if there is a leak, reducing the pressure to one pipe will reduce the amount of water lost through the pipe, but it also means that some consumers may not have enough pressure in their taps at home.
Before the partnership with IBM, Valley of the Moon operations staff had to manually adjust the pressure of each valve to maintain optimal pressure across the system. The task, which had to be done continuously, was a very time-consuming and inefficient process. Now, IBM analytics provides the engineers with detailed information for recommendations of optimal settings for each valve based on what's happening across the entire system so that valves can be quickly and easily adjusted as necessary. Besides pressure management, the technology will also be used to enable leak detection by comparing real-time information about the water system with expected and historical values.
Image credit: IBM Research News Blog