Indigenous Designs Wants Fashion to Choose Life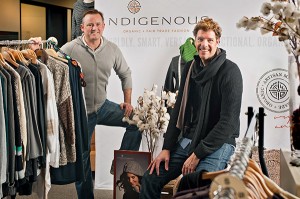 Fashion, which often forecasts trends, seems to have fallen behind CSR and sustainability, two contemporary concepts that other industries such as services, transport, tech, and even paper, have been faster to embrace. The rise of fast fashion with its ridiculously low prices on the high streets of the developed world has been one of the factors putting pressure on the apparel industry to cut corners and outsource labor to countries that rank low on the human rights index. The "democratization" of luxury has also played a role.
The recent tragedy in Bangladesh, where a fire killed more than a thousand workers in garments factories, was a painful reminder that something needs to be done. It's also worth mentioning all the toxic waste produced by tanneries in the making of leather, a serious environmental hazard that has been documented by Greenpeace and other organizations. The return of fur in shop windows also signals a backward step for fashion in terms of ethics.
There are a few mainstream fashion houses vying for green credibility, notably Stella McCartney and Vivienne Westwood, but beneath the few ethical veneers, a recent reportseems to tell a different story. Why is it that the fashion industry seems so reluctant when it comes to switching to more humane and ecological business models?
"Many fashion industry executives claim full transparency is too hard to accomplish, too elusive, too big to get their arms around," says Scott Leonard,CEO and co-founder of fair trade fashion label Indigenous Designs. In order to tackle that issue, the company has issued a challenge to their industry peers that says: If we can do it, why can't you?
"We are asking everyone— manufacturers, retailers, and consumers—to share our commitment to fashion that honors people and planet, and to take and share a simple pledge: "No one should have to suffer and die to produce the clothes we wear," Leonard added.
Since it launched in 1994, Indigenous Designs has become an international fashion empire with 500 boutiques, several catalogs and a partnership with Eileen Fisher. At present, 75% of artisan knitters in the company's network are no longer at risk of poverty. They work in safe, healthy conditions with benefits and the opportunity to make a better life for their families. Many have grown to start their own fair trade workshops and to employ and help others.
But things were not always like that for those small artisans. When Leonard traveled to South America in the early 1990s to create a small fashion company reflecting the spirit of indigenous crafts, he saw firsthand the miserable conditions faced by many in the knitting trade. He also saw the tragic consequences of the use of non-organic cotton farming on the land and the health of the farmers and their children.
The company believes that educating consumers about fair trade is key. In order to create a more efficient communication channel with people who buy its clothes, Indigenous Designs powering up a mobile app. Starting this fall, every ID garment will include a QR code on its hand tag which consumers can scan with their mobile phones. The code will launch the Fair Trade Tool application bringing to the consumer the story of the artisans who make Indigenous Designs clothing, information about supply chain and social impact survey data.
The social impact survey data is collected using a new SMS/cell phone-based survey technology. Every six months, the company gathers data from the artisan workforce on working conditions, economic well-being and other factors. It then shares this information with employees, investors and customers. This and other technologies make it possible to survey workers privately, via confidential voice response, away from employers and managers.
Indigenous Designs' concern goes beyond its own range of clothing – it wants the whole fashion business to switch to a new economic model that creates real value all across the supply chain. It wants consumers to ask themselves where their clothes have come from, who made them and are they are supported when they buy them. Come to think of it, it is actually shocking that usually the end consumer cannot answer such questions. However, the age of faux-innocence is over, and with apps like this, coupled with consumer awareness and ecological concerns, the fashion industry had better rise to Indigenous Designs' challenge.
Source and image credit: www.indigenous.com