Leaders Meet in Stockholm to Discuss Water Sustainability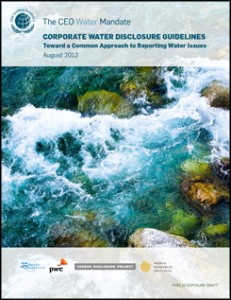 Global leaders have converged in Stockholm, Sweden to discuss the challenges the world faces in relation to water usage. The World Water Week is hosted and organised by the Stockholm International Water Institute (SIWI) and takes place each year in the Swedish capital.
At the outset of the event, the leaders have put out a press statement, calling for substantial increases in public and private sector investment to reduce losses of food in the supply chain, enhance water efficiency in agriculture and curb consumer waste. More than one fourth of the water we use globally is taken to grow over one billion tons of food that goes wasted, alongside costs to grow, ship, package and purchase that food. As the world is headed to hit a nine billion population mark, which will put an enormous pressure on ecosystem services, we need to reduce food waste, increase productivity and plant breeding, and waste water recycling mechanisms.
Amind the framework of the event, the UN Global Compact's CEO Water Mandate announced the release of its Corporate Water Disclosure Guidelines, a pioneer initiative in the field of corporate water disclosure. Companies are looking into ways to make their operations more water efficient and responsible. The UN Global Compact CEO Water Mandate's Corporate Water Disclosure Guidelines has been designed to help advance a common approach to corporate water disclosure that addresses the complexity of water resources in a comprehensive yet concise and practical manner.The Guidelines suggest that companies offer several types of water-related information, which are captured in the document, which was developed in collaboration with the Pacific Institute, Carbon Disclosure Project, PricewaterhouseCoopers, World Resources Institute, and Global Reporting Initiative.
Collecting data on a company's water management is a complex task and there are several methods of water assessment and disclosure metrics available. But all this diversity makes it hard to compare results and companies may have to use further resources to complete water and sustainability surveys. Besides, corporate water management objectives and activities vary greatly depending on industry sector and geographic location, leading to many possible disclosure approaches and metrics that are more relevant to certain companies than others. The Guidelines are designed to be a one-size-fits-all solution that is applicable to a broad range of corporate water users, to capture the complex and location-specific nature of water resource dynamics and corporate action.
Gavin Power, deputy director at the UN Global Compact and head of the CEO Water Mandate, said he hoped the Guidelines would drive convergence in water management efforts and reduce reporting burdens. "Disclosure also supports more sustainable and equitable management of water resources by improving the ability of stakeholder audiences to evaluate a company's water practices and make comparisons across companies – which fosters greater corporate accountability," he added.
Image credit: Global Compact