New Report Forecasts Technological Advances in the Sustainable Economy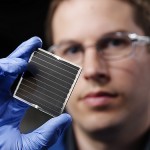 Global Industry Analysts has released a new global outlook on the Green Technologies Industry. The report focuses on how "economic activity that violates the laws of sustainability is driving the acceptance and adoption of green technologies worldwide." Renewable chemicals, clean energy technologies (such as wind, solar and hydro), hybrid automotive powertrain technology, and green IT practices, among others, are expected to see the strongest growth, it predicts.
Sustainable, green energy will get stronger to meet the growth in energy demand as the global population increases exponentially. The authors of the report single out wind, solar and geothermal power as industries bound to witness robust gains in the upcoming years. Technology developments in photovoltaic cells and wind turbines, coupled with government incentives will strengthen the role played by renewables in the energy mix portfolio in the future.
Renewable chemicals will benefit from innovations in industrial biotechnology processes and feedstocks. With the traditional chemical industry coming under tighter scrutiny, companies, government, and academic institutions are investing heavily to support research and development in new and renewable feedstocks. The use of renewable raw materials in production of chemicals, such as plant-based sources, enzymes, vegetable oils, fatty acids and microorganisms, is attracting immense interest because of its potential to reduce the chemical industry's negative impact on human health and environment. A key area of focus is to replace costly chemical production processes with cheaper, environmental friendly, sustainable bioproduction processes with interestingly new chemistries. As a result, renewable resources for manufacturing polymers and chemicals for meeting their social and environmental responsibility as well as eliminating or reducing hazardous substances are gaining prominence.
The automobile sector is also greening its act as top league companies have started to invest significantly in green practices and concepts in automotive manufacturing. Venture capitalists have signalled clearly they are interested in investing in cost-effective and environmental friendly technologies for producing hybrid/electric/solar powered vehicles for a new age in transportation. Green transportation technology was one of the major beneficiaries of calculated investments made by venture capitalists during the recession.
The corporate world has also embraced sustainable behavior through the adoption of green IT practices in enterprises. Short term, basic green IT projects, and policies aimed at enhancing energy efficiency and cost reductions are expected to receive continued focus. Despite the crisis, investments and interest among organizations on environmental friendly practices and green IT technologies actually increased as a cost-savind measure and a way to improve competitive advantage through brand loyalty.
The authors also highlight the impact of Green Nanotechnology on manufacturing processes. It can be used to modify engineering practices at a molecular stage, thereby reducing raw material/energy consumption, wastages, pollution and the toxicity of manufacturing processes. For example, nanotechnology in electronics manufacturing can reduce the use of water, solvent and lithography, making the process less resource-intensive.
Follow the link for more details on the report.
Image credit: PNLL/Flickr