Ohio Stadium Plays Sustainability Game With Zero Waste Project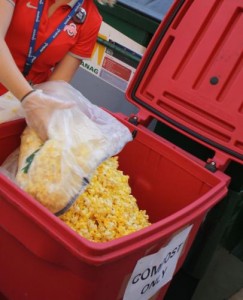 Sports fans who flock to Ohio Stadium are enjoying more than a sports game, but also a lesson in sustainability. The stadium recently kicked off an initiative whereby it hopes it will become the United States' largest socially responsible, Zero Waste stadium.
By zero waste the stadium means diverting 90% of trash from the landfill by recycling and composting. Management has placed recycling and composting bins throughout the Shoe, as it is also known. Most items purchased inside the stadium will be either recyclable or compostable.
The program is already yielding results. Management said the first game saw a 76.3 percent increase in diverted waste compared to the previous season. During the second game the figure was 63.7 per cent.
"Ohio State has already made major strides already toward reducing waste going to the landfill," said Corey Hawkey, Ohio State's coordinator for energy services and sustainability. "Diverting trash completely – with 105,000 fans in attendance – is a challenge but we're confident that this program will be successful."
The Ohio State office of Energy Services and Sustainability and the Ohio State Department of Athletics Facilities office designated two waste streams for this football season.  The message is simple: If it looks like food or paper, then compost it. If it looks like plastic, metal, or glass, then recycle it. Trash stations have been removed from the stadium.
"When in doubt, we ask fans to recycle it, and the contamination will be sorted out at the recycling facility," said Danny Phillips, Sodexo general manager at Ohio Stadium. Sodexo is a specialist in Quality of Daily Life Solutions working with Ohio Stadium. "Behavior change by employees and fans is the key to success and we'll keep working at it until we reach our partner's goal."
Sodexo trained more than 600 employees and volunteers over the summer to prepare for the Zero Waste program. The company also reinforces the effort with refresher training before each game to send the least amount of waste to landfill.
Best of all, fans will not bear the cost of implementing Zero Waste. Ohio State Energy Services and Sustainability received a grant from the President's and Provost's Council on Sustainability to help subsidize the Zero Waste implementation. Sodexo has also provided financial assistance by absorbing the cost of providing more compostable and recyclable products in the stadium.
"Ohio State has long had a tradition of excellence, teamwork, and commitment," Phillips said. "This initiative follows in that same tradition and Sodexo is proud that the teamwork of our employees and volunteers supports our partner in this worthwhile effort."
Image credit: Sodexo