Questions and Answers with Caroline Hickson, Director of Brand and Communications, at Fairtrade International (FLO)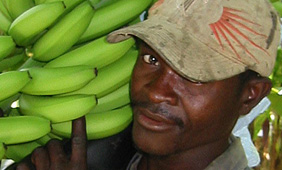 My apologies to Fairtrade International for the following mistakes in my recent interview with Caroline Hickson.
In my interview with FLO, I wrongly stated that "75% of the small farmer organizations in Fairtrade are in cooperatives." This statement should have read: 75% of all small producer organizations are cooperatives"
Additionally, FLO does not work only with small producers but also with plantations employing workers for certain products.
FLO would also like to clarify their opinion on Fair Trade USA's departure from FLO: "Now it is simply about two organizations with a similar vision but different ways of achieving it".  This is fundamental to their outlook.
After my provocative interview with Paul Rice from Fair Trade USA, I promised you'd hear from the "other side" of the movement too, so here you have it!  Caroline Hickson, Director of Brand and Communications, at Fairtrade International (FLO) sheds light on their model, pilot projects and plans for innovation. (Please note: the fair trade movement is a dynamic system, continually changing. For the most up-to-date information on the movement, please refer to the Fair Trade Resource Network: www.fairtraderesource.org)
Q: Thanks for your time today Caroline! Let's get right into the juicy stuff!
According to Fair Trade USA, one of the main reasons they departed from FLO was because they wanted to expand their work beyond the cooperative model.   Does FLO believe that fair trade only works in the cooperative model?
A: No. The vast majority of our producers, 75%, work in cooperatives, but this is not a rule. We ask that they be organized in some way shape or way. We believe the collective empowers producers, rather than working as individuals. We work with collective producers, small producers. We feel we started here and that's where the work is needed. We still have a huge number of producers to meet. That's where our focus needs to be.
Q: Paul Rice reiterated to me over and over that the cooperative model excludes the poorest of the poor. Families without land. Families with land, but not enough land to support their entire families. Do you believe this is true and if so, how does FLO use fair trade to empower the poorest of the poor?
A: We are looking at these questions. How do we get to the very poor?  We started pilot projects called "producers diversity."  How do we include different types of producers? Different non- cooperatives? There are really interesting groups in the Amazon, wild collectors of nuts. How do we certify them? Or indigenous groups in Colombia. How do we get involved with those groups? We have several pilot projects testing our model with new groups.
Q: How does FLO pick the pilot projects?
A: In the case of the producer diversity project, in 2010, Fairtrade International put out a call for pilots to our members (national Fairtrade organizations and regional producer networks). The project manager, Charlotte de Vroey, interviewed various people from the global product management team, producer services team, and the producer networks to find out if they knew of producer groups who were interested to join FLO but hadn't been able to gain certification because they didn't meet our current requirements. The producer networks review the list of possible groups (around 30) to select the final pilots. If the market is right and producer groups wants to join, then we finalize these decisions.
Q: Do you think the fair trade movement, as the cooperative model, splits families down the middle? Some working on fair trade certified cooperatives, others being forced to work down the street at the large plantation? Have you seen that?
A: Quite the opposite! Fair trade has, on the whole, had a positive influence on farming families. A study of all the academic impact studies on FLO over 10 years found "strong evidence that FLO provides a favorable economic opportunity for smallholder farming families." Especially those who are able to form producer organizations and provide products that fit the market. And the premiums too. They benefit the entire communities. There are studies that show that FLO certified farmers raise the economic status of non-fair trade farmers as well.  In small-scale farming families, normally the whole family contributes. If they can't make a living one of the parents may have to find temporary work elsewhere. Fair trade helps support farming families to make a sustainable income off their land and prevent the need to migrate elsewhere for work.
Q: I read this statement on your website: "Producers are co-owners of the Fairtrade system.  Fairtrade certified producers jointly own and manage Fairtrade International. Through the Fairtrade International's Board, its Committees and consultation processes producers can influence prices, premiums, standards and overall strategy." How is this materialized?
A: Producers representatives serve in our governance and have a voice in all major decisions. In October it was agreed that producer representatives would have 50% of the vote in our General Assembly, the highest decision-making body in FLO. Producer representatives serve on the Board of Fairtrade International, on Fairtrade's global executive team, and on the Standards Committee which decides on all important changes to our Fairtrade Standards.

The producer representation is from three regional producer networks. Producer networks are regional associations that Fairtrade certified producer organizations may join if they wish. There is one producer network per continent, Fairtrade Africa (FTA), Network of Asian and Pacific Producers (NAPP) and Coordinator of Fairtrade Latin America and the Caribbean (CLAC – Coordinadora Latinoamericana y del Caribe de Comercio Justo). They represent small-scale producers, workers and other producer stakeholders.
Q: How do you respond to this comment by Paul Rice: "If fair trade continues to stand on  the model of excluding the poorest of poor, excluding the majority of people in product categories in industry- it's really on moral thin ice. Fair trade has to be more inclusive."
A: We agree that fair trade must be inclusive but we take a different approach of implementation. We are working to include more vulnerable producers and workers within FLO's system, but working closely with the producers themselves as part of our decision-making and governance to make this happen.
Our producer diversity project is a collaboration between FLO and the three regional fair trade producer networks to find innovative ways to include producers who currently cannot participate because they do not fit our current model. The project will explore which specific requirements are creating barriers to prevent farmers from joining and how these may be adapted or other solutions found. Its bottom-up approach will test new approaches in a few selected case studies.
Q: How does FLO define innovation as the fair trade movement progresses?
A: Innovation comes from really knowing and understanding the context you work in.  Hearing the voice of the producers. What they believe is needed, what they think is good. This is innovation. I'm not a believer in that you set up an innovation committee. Instead, you are on the ground. You are hearing the voices of people themselves. It's not all about scale. It has to be about impact. You have to go to scale in a way that keeps your integrity.
Fair trade does seem to be in a movement of change. It's changing norms. If you look back 25 years ago when it started in Holland, who was thinking about what was happening in their supply chains? This is a testimony to how we've changed norms. When you do have something that changes, you are going to have tons of opinions.
I think it's sad that it got to the point where Fair Trade USA left. If we had continued conversation we could have come together. It happened suddenly. It's not unusual that you will have situation where there are lots of different opinions, debates. A relatively healthy evolution. It's sad that a member left. We are trying to get away from the he said, she said. But it's important that we keep standards high as a movement. It's about us looking at our standards. We were the original standard setter. We hope to be the gold standard.