Reports Focuses on Private/Public Partnerships To Advance Sustainability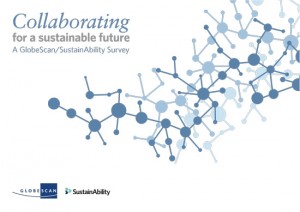 A new report compiled by GlobeScan and SustainAbility says that the most effective way for companies to reach sustainability goals is working with multiple governments, which, despite their poor record in the sector, are essential to achieve success.
The survey consulted sustainability experts from corporate, government, NGO, academic, research, and service organizations in 74 countries. Nearly 800 experts were surveyed online by the two organizations in September 2012. Sub-Saharan Africa was also listened to thanks to a collaboration with the Gordon Institute of Business Science at the University of Pretoria.
Focus is the best way to be effective, the report says. Partnerships that concentrate on a single issue or purpose work better than those that seek to address a broader set of topics. However, the report says that all of the forms of collaboration that it examined are likely to become more common over the next five years.
Examples of how official support for sustainable industries work abound. For instance, in the US the wind industry thrives and generates jobs when it can rely on steady tax incentives and clear policies.
Partnerships on specific projects can work, too. For example, performance carmakers Lamborghini has entered an agreement with the Italian government through the Ministry of Environment to collaborate on sustainability projects, wrote European Car Web. Both parties will work to outline methods for measuring CO2 emissions during car production with the goal of neutralizing or reducing them. The overall goal is to create a template system that can be applied from design and development to production.
Image credit: GlobeScan