Researchers Develop "Peel–and-Stick" Flexible Solar Power Solution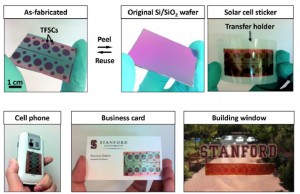 In order to make solar power more viable and ubiquitous, researchers all over the world work on boosting its conversion efficiency (the amount of sunlight that becomes energy) as well as developing new materials and processes to make photovoltaic solar panels.
In the December 20th issue of Scientific Reports magazine researchers from Stanford University described an exciting new development which they call the world's first peel-and-stick thin-film solar cells. The decal-like application does not require any direct fabrication on the final carrier substrate and the possibilities of use this flexible material allows for are huge, since it can be applied to virtually any surface, from business cards, rooftops and window panes.
So far, the development of thin-film solar, which at first was expected to add flexibility to photovoltaic solar panels, is limited by the rigidity of its materials, such as silicon and glass substrates. And the use of alternative substrates is quite problematic, says Xiaolin Zheng, lead author of the paper. "Nonconventional or 'universal' substrates are difficult to use for photovoltaics because they typically have irregular surfaces and they don't do well with the thermal and chemical processing necessary to produce today's solar cells," Zheng said. The peel-and-stick process adds an unprecedented flexibility and attachment potential to thin-film solar cells, she added. It also makes them cheaper and lighter.
Let's get to the technical details of how this incredible cell is made. The researchers describe it as a sandwich made of silicon, silicon dioxide and metal. First, a 300-nanometer film of nickel (Ni) is deposited on a silicon/silicon dioxide (Si/SiO2) wafer. Next, thin-film solar cells are deposited on the nickel layer using standard fabrication techniques, and covered with a layer of protective polymer. A thermal release tape is then attached to the top of the thin-film solar cells to make it easier to peel them off the production wafer and onto a new substrate. Employing such process, researchers attached thin-film solar cells to paper, plastic and window glass, among other materials. Zheng said that they didn't lose any of the original cell efficiency.
Tests have demonstrated that the peel-and-stick process reliably leaves the thin-film solar cells wholly intact and functional. Besides, the (Si) wafer is typically undamaged and clean after removal of the solar cells, and can be reused. Fabrication of the cells would not require new processes or materials, which makes them instantly commercially possible, not only for thin-film solar cells, but also for thin-film electronics, printed circuits, ultra thin transistors and LCDs. In other words, ubiquitous solar power.
Image credit: Stanford