Rio+20 Sees Major Commitment From Business, now it's Governments' Turn.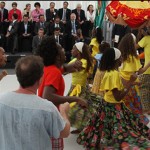 By: Meirav Even-Har, Toronto
The UN Conference on Sustainable Development is upon us. Rio+20 as it is commonly known for marking the twentieth anniversary of the first Earth Summit in Rio de Janeiro. As we welcome the first official day of summer there is some reason for optimism. This conference promises to be a bit different. Not because there is certainty that unlike previous gatherings - remember COP16? - Consensus will be reached, or commitments made. Optimism, because this conference begins with a serious call to action from the business world, backed by measurable commitments.
UN Global Compact gathering and pledge
1,400 business executives gathered for the UN Global Compact's Corporate Sustainability Forum. The Forum drew a total of over 2,700 participants to successfully craft plans to be presented as policy recommendations to heads of state at the conference. Together with the World Business Council for Sustainable Development (WBCSD), the Global Compact "set criteria for time-bound, measurable commitments on which corporations are required to report annually," a release states.
There was a also a special communiqué signed by 45 CEOs urging governments to establish a "fair and appropriate price" of water for agriculture, industry and people, according to a Guardian article. The communiqué commits its signatories from the world's largest corporations to continue advocating for change to the way water resources are valued. In an interview with The Guardian, Gavin Power, deputy director the UN Global Compact, explains: "For companies this is enlightened self interest...Companies like certainty and in areas where there is no pricing they are very vulnerable. It could potentially push up prices in some markets but better to pay more and have certainty of supply."
For the love of energy...Canadian government disappoints
Canada has garnered special attention this past week, due to its attempted interference with a motion calling for a phasing out of fossil fuel subsidies. Mike De Souza writes, "Environment Minister Peter Kent was unable to explain why Canadian negotiators were trying to ask the conference to "consider" eliminating the subsidies instead of supporting the positions of others, such as the European Union, who are calling for a firm commitment for a full phase-out."
How is Canada's progress toward reaching its GHG emission reduction targets? Not good, according to a recent report published by the National Roundtable on the Environment and the Economy (NRT). In Reality Check: The State of Climate Progress in Canada, a stark assessment comes to light: "Canada will not achieve its 2020 GHG emission reductions target unless significant new, additional measures are taken. More will have to be done. No other conclusion is possible."
Like all good environmental research in Canada, the NRT will also be closing its doors along with the Experimental Lakes Area (ELA) to name only two of too many. While Canadians may not wish to see a future where research centers must carry a corporate logo to survive, it feels eerily close to that.
The role of business seems to be changing, its latest evolution showing up in the written commitments at Rio+20. I maintain a sense of optimism for results coming out of Rio+20. Not because my government has taken the steps to represent my concerns for a more sustainable future, but because for the first time, business has.
###
NOTES
UN Global Compact: Action Pledges by Business Kick Off Rio Drive for Sustainability Solutions
The Guardian: Rio+20: Big businesses club together to demand water is given fair value
The Guardian: Rio+20: Big businesses club together to demand water is given fair value
Postmedia News via The Windsor Star: Rio+20: Canada shielding fossil fuel subsidies at Earth Summit
NRT: Reality Check: The State of Climate Progress in Canada
Image: Inauguração da Rio+20 by By MCTIBrasil via Flickr