Sanofi and Novo Nordisk Fight Diabetes with Education and Awareness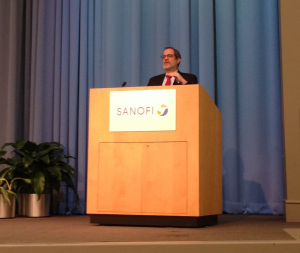 It is estimated that 25.8 million people in the U.S., including children and adults, have diabetes, or 8.3% of the population. Of these, 18.8 million are diagnoses while the remainder does not know they have the disease. In 2010 alone 1.9 million new cases of diabetes are diagnosed in people 20 years and older. Diabetes was the underlying cause of 71,382 deaths in 2007 and it can contribute to heart disease and stroke, high blood pressure, blindness, kidney disease, neuropathy, and even amputation. The cases of diagnosed diabetes cost the United States $174 billion in 2007.
Education and awareness are the most effective weapons against the global diabetes epidemic. Bearing this mind, this is what Sanofi set out to do on World Diabetes Day on November 14th: the diabetes treatment company promoted a diabetes camp, where it told participants about the efforts of its NA Corporate Social Responsibility team.
The program included a Town Hall with A1C Champions and a walk around the Sanofi US Headquarters led by Brooklyn Nets head coach and Dribble to Stop Diabetes Ambassador Avery Johnson. During the day, Larry Hausner, CEO of the American Diabetes Association, discussed the importance of diabetes awareness as well as the value to patients in partnering with Sanofi US. The audience also had the opportunity to ask questions to an expert panel. Johnson also talked about the importance of diet and exercise and shared his personal connection to diabetes.
Diabetes awareness campaigns are taking place all over the world. Earlier this year, Novo Nordisk, another pharmaceutical company focused on diabetes, launched a campaign in Africa to help families with children living with Diabetes 1. Called Changing Diabetes in Children, the launch took place during the 1st Africa Diabetes Congress held in Tanzania in July. Type 1 diabetes is the most common type of diabetes in children worldwide, making up 90 to 95 per cent of diabetes cases in under-16s. It is caused by the pancreas' inability to produce insulin as the cells that produce insulin are destroyed. The disease is particularly problematic in Africa, where children with this type of diabetes often go undiagnosed and when they are, access to insulin and medical equipment is not sufficient.
Image credit: Sanofi