Social Accountability International to Host Training on Responsible Jewelry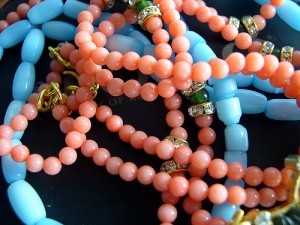 Social Accountability International (SAI) will host a jewelry supplier training in Mumbai, India, on August 22nd. The training will teach jewelry industry leaders how to implement management systems that will help them meet the Responsible Jewellery Council's (RJC) Code of Practices.
SAI, perhaps best known for the SA8000 Standard that certifies companies for having socially responsible workplaces, began training companies to meet RJC standards in June 2011. At that time, SAI was working with Rosy Blue, the world's largest diamond manufacturer with headquarters in China, India, Israel, South Africa, and the UAE, among other locations.
SAI worked with Rosy Blue's main supplier in China as it prepared to meet the RJC code of conduct. "SAI has been working in the jewelry sector with SAI Corporate Programs member Rosy Blue, also a member of RJC, and have seen substantive improvement at some of their key suppliers in Thailand and China," said Craig Moss, SAI's Corporate Programs & Training Director. "We hope to be able to engage more suppliers in the same kind of improvement effort."
Iris Van der Veken, Manager of Corporate Affairs at Rosy Blue, was enthusiastic about the SAI training. " systematic approach, bridge building between the supervisors and staff, and technical expertise has been an enormous added value for practices in our operations," said Van der Veken. "The fact that link corporate standards to local needs is important to us. We are very happy with the work completed and are looking forward to the follow up implementation."
Now may be an ideal time for diamond suppliers in particular to consider RJC certification, as the World Diamond Council just expressed its strong support for reform of the Kimberley Process and for expanding the definition of conflict diamonds.
The Kimberley Process Certification Scheme was established in 2003 to prevent conflict diamonds from entering the mainstream rough diamond market. While the introduction of the Kimberley Process was widely regarded as a step in the right direction, the efficacy of the process has been severely criticized. Global Witness pulled out of the scheme in December of 2011, asserting that it does not provide markets with trustworthy assurance that the diamonds are not conflict diamonds.
While the RJC's Code of Practices includes four provisions that require conformance with the Kimberley Process Certification Scheme, the RJC's standards are more comprehensive and also address businesses in the gold supply chain. While less controversial than the diamond industry, the gold industry has also been cited for social and environmental irresponsibility by organizations like EARTHWORKS through its No Dirty Gold campaign.
The RJC seeks to improve the reputation of the entire jewelry industry. "Achieving RJC Member Certification allows an organization to evidence responsible business practices," wrote RJC's Anna Leach in an e-mail. "RJC Member Certification aims to provide an internationally respected and recognised standard. By providing a common standard for the entire jewellery supply chain, it can also help reduce the costly duplication of multiple audit schemes."
"SAI is excited to be partnering with RJC to help companies develop and implement management systems to better meet the RJC code," said SAI's Moss. "We believe that management systems are the key to driving improvement in social performance for the ultimate benefit of workers."
Those interested in registering for SAI's training can do so at SAI's website.