The Future of Cleantech: The Global Cleantech 100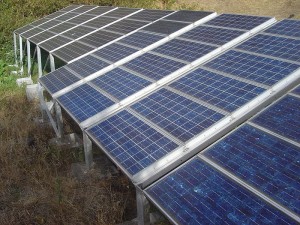 To get a sense of what cleantech innovations will impact the next decade, here are 100 companies to look at
The 2012 Global Cleantech 100 Report has been released by the Cleantech Group, an energy and environmental innovation research advisory firm with offices in San Francisco and London.
Produced by combining the group's proprietary research data with more than 6,000 nominations and input from a 75-member expert panel, the Global Cleantech 100 lists the top 100 private companies in clean technology that represent the most innovative ideas in the world of cleantech. Specifically, it "identifies the private cleantech companies most likely to make a significant market impact over the next five to ten years," according to a Cleantech Group press release.
"The Global Cleantech 100 is a natural extension of our companywide mission to help corporations, investors and financiers, professional service firms and governmental agencies connect with global cleantech innovation," said Cleantech Group CEO Sheeraz Haji. "This report celebrates the best in innovation and is the industry standard for gauging where cleantech innovation is headed next."
To qualify, companies must be independent, for-profit, cleantech companies not listed on any major stock exchange. This year, 5,117 companies were nominated from 85 countries.
THE ENVELOPE PLEASE
In conjunction with the report's release, Cleantech Group presented awards in eight categories to clean technology innovators at the Global Cleantech 100 Gala at the Italian Embassy in Washington, DC, on October 1.
Company of the Year was awarded in each of three regions to the highest-ranked company with no negative votes from the expert panel. Opower, a Virginia-based developer of a software-as-a-service that partners with utilities to promote energy efficiency, won for the region of North America; NovaLED, a German developer of energy-saving, long-life organic light emitting diodes (OLEDs), won for the region of Europe and Israel; and Miartech, a Shanghai-based designer of integrated circuits for power line communication systems, won for the region of Asia Pacific.
LUST AND MARMITE: FROM ADMIRATION TO DISAGREEMENT
In addition to presenting today's top 100 innovators in the cleantech industry, the report identifies recent trends, analyses by region and sector and data about funding and investors. It also includes the quirky "Lust and Marmite Lists." The former is made up of companies that were the "most consistently admired by non-stakeholder peers," while the latter is made up of the ones that divided the expert panel.
Some of the other companies that made this year's list include 1366 Technologies, a Massachusetts-based developer of manufacturing technology that increases the efficiency of silicon wafer production for solar cells; Panoramic Power, an Israeli developer of a low-maintenance energy usage monitoring platform for businesses that uses low-cost wireless sensors and cloud-based data management; Liquid Robotics, a California-based developer of autonomous unmanned marine vehicles propelled by waves; Amantys, a UK-based developer of power electronics for wind turbines; and Ostara Nutrient Recovery Technologies, a Vancouver-based provider of solutions that recover phosphorus and nitrogen from used water streams to transform them into environmentally responsible, slow-release fertilizer.
THE RISE OF THE GREEN CONSUMER: RECYCLEBANK
While most of the firms that made the list are technology concerns, one that stands out from the pack is Recyclebank, a New York-based developer of a financial rewards system for households that recycle. Focusing on consumer awareness and behavior, Recyclebank gives its members an opportunity to earn points for everyday "green actions" like reducing daily water use or making more environmentally-conscious purchases. Those points can then be used to get rewards.
I recently completed the easy interactive quiz on their website and was able to earn 30 points, which I can now use to get my first reward. I can choose from hundreds of specially-discounted offers, such as coupons for healthy, all-natural products from companies like Nature's Gate and Kashi. It's a smart, simple proposition that supports the development of ethical consumption.
"By rewarding people for participating in household recycling programs through partnerships with municipalities, haulers and businesses, Recyclebank has developed a business model and corresponding technologies that have proved highly effective in moving individuals and municipalities toward sustainability, while also driving a larger economic benefit for the communities served," according to Cleantech Group.
IN CHALLENGING TIMES, FOCUS AND PERSISTENCE PAYS OFF
"The Global Cleantech 100 list reveals an increasing maturity of the cleantech sector," said Colin le Duc, a partner at General Investment Management LLP and member of the report's expert panel.
"In contrast to what the press and stock markets may have you believe, many private cleantech companies are gaining real market traction, generating significant revenues and profits and contributing materially to the challenges of resource efficiency and the climate crisis. The best companies in this sector are demonstrating the value of focus and persistence and are emerging as stronger organizations for having thrived in a very challenging environment over recent years."
###
NOTES
Cleantech Group LLC. Cleantech Group Reveals the 2012 Global Cleantech 100 List and Announces Award Winners in Eight Categories at the Global Cleantech 100 Gala. October 1, 2012. Accessed October 16, 2012.
Ibid.
Cleantech Group. 2012 Global Cleantech 100. October 1, 2012. Accessed October 16, 2012.
Cleantech Group. Recyclebank. August 16, 2012. Accessed October 16, 2012.
Ibid., 1.
image: A solar panel in Marla, Cirque de Mafate, Réunion Island (credit: David Monniaux, Wikimedia Commons)