The Good, the Bad and the Ugly: The Deceleration of Microfinance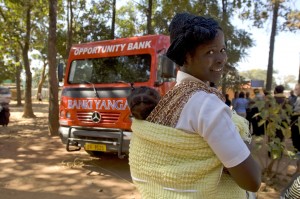 "We never said microfinance was a silver bullet." -- Muhammad Yunus, founder, Grameen Bank
For many of the world's poor who are able to access a microfinance institution (MFI), getting a small loan anywhere between USD 25 to 5,000 can mean the difference between a life of poverty or a life as a small business owner. And while the overall numbers look good, the recent news coming in from the international microfinance sector is a bit of a mixed bag.
Consider for a moment Ghana, which has been highly touted recently as the Sub-Saharan Africa's fastest-growing economy. Kofi Adu Domfeh, head of the business desk at Luv 99.5 radio in Kumasi, reported today that "over 60 firms in the northern sector of the country have registered with the Ghana Association of Microfinance Companies (GAMC) to play under the Bank of Ghana's new rules and guidelines," with 100 more lined up.
Earlier this week, a report released by the Microcredit Summit Campaign found that "nearly 9 million Indian households involved in microfinance -- including approximately 45 million family members, on net -- rose above the $1.25 a day threshold between 1990 and 2010."
GOOD NEWS WITH AN ASTERISK: CORRELATION, BUT NO CAUSALITY
"This report is good news, coming out seven months after a similar survey showed significant progress in Bangladesh," said Sam Daley-Harris, director of the non-profit Microcredit Summit Campaign based in Washington, DC. "Neither survey was designed to assign causality to microfinance, but there is a significant correlation in both India and Bangladesh between the presence of microfinance and movement out of poverty in the rural areas of both countries, especially in the early years."
The MSC report comes a little over a year after SKS, India's largest MFI, became the first of the nation's MFIs to hit the public market with a hugely successful IPO. "The offering was 13 times oversubscribed and attracted leading investment groups, such as Morgan Stanley, JP Morgan, and George Soros' Quantum Fund," reported the Consultative Group to Assist the Poor (CGAP), an independent policy center at the World Bank focussed on expanding financial access to the world's poor, also based in Washington, DC. They noted that the valuation of SKS "reached the top of the offer band price at US$1.5 billion, and five weeks after trading began, the share price rose 42 percent."
A COMMON REFRAIN: MORE MONEY, MORE PROBLEMS
But some industry experts are not pleased with the current state of the sector, which has received criticism for taking advantage of borrowers in a marketplace where regulations either have been non-existent, under-enforced or a case of "too little, too late."
"SKS did microfinance and low-income households a major disservice," said Sanjay Sinha, the managing director of MicroCredit Ratings International, an MFI research firm based in Gurgaon, a city outside the Indian capital of New Dehli. "Multiple lending was inevitable and over-indebtedness followed."
"It is clear that changes are needed in Indian microfinance," said Shubhashis Gangopadhyay, the founder and director of the non-profit India Development Foundation (IDF), based in Haryana in northern India. "Families in rural communities need access to financial services from microfinance institutions that know their clients and are committed to improvements in their lives."
THE BOTTOM LINE OR THE END OF THE LINE?
In their exhaustive 188-page report, "What is the evidence of the impact of microfinance on the well-being of poor people?" which was released in June, the Evidence for Policy and Practice Information and Co-ordinating Centre (EPPI-Centre), part of the University of London's Social Science Research Unit, paints a rather gloomy picture of the sector. "Despite the apparent success and popularity of microfinance, no clear evidence yet exists that microfinance programmes have positive impacts," the authors state, adding, "Overall, it is widely acknowledged that no well-known study robustly shows any strong impacts of microfinance."
For his part, the embattled microcredit guru Muhammad Yunus, who won a Nobel Peace Prize in 2006 for his work as the founder of the microcredit institution Grameen Bank in Bangladesh and who now faces critics all the way up to the Bangladeshi prime minister Sheikh Hasina Wajed, has dug in his heels and assumed a defensive mode. In an interview with The Guardian last month, Yunus said, "I'm not hurt by the vilification in the press; I'm disappointed and I'm worried. I don't want to see an organisation which has come all this way and brought so much good to the country and brought power to the people, come to this. Many people are angry but anger doesn't solve anything."
MICROFINANCE: NOT A SILVER BULLET
"We never said microfinance was a silver bullet," said Yunus, in his first interview since he was fired from Grameen amidst allegations of corruption (which were cleared last month). "Job creation is the solution to poverty. Loans should only be given to fund enterprises. They mustn't ever be used for 'consumption smoothing' or how can people pay back the loans? It has to be about income generation."
His point is well taken. A loan is meant to be repaid. It's about making an investment in something that is, in an ideal scenario, sustainable both for the debtor and the community-at-large. To this point, perhaps the developing world can take an object lesson from the subprime mortgage crisis and "dark market" credit default swaps that led to a majority of Americans losing more than 25 percent of their net worth between June 2007 and November 2008. Regulation shouldn't be a barrier of capitalism; it should be the barrier that protects economic growth from the abyss of recession.
Never one to miss an opportunity to offer a witty criticism of the social ills of modern society, the 19th-century father of transcendentalism Ralph Waldo Emerson pithily observed, "Money often costs too much." It is troubling that many of the world's microfinance debtors are now finding out just how right he was.
###
NOTES
http://business.myjoyonline.com/pages/finance/201108/71334.php
http://www.microcreditsummit.org/press_releases/45_million_indians_move_above_1.25_a_day/
Ibid.
http://www.cgap.org/gm/document-1.9.47613/FN65_Rev.pdf
http://www.moneycontrol.com/news/business/mfis-helped-9m-households-come-outpoverty-report_577877.html
Ibid.
http://www.dfid.gov.uk/r4d/PDF/Outputs/SystematicReviews/Microfinance2011Duvendackreport.pdf
http://www.guardian.co.uk/world/2011/jul/18/muhammad-yunus-microfinance-bangladesh
Ibid.
http://www.businesstoday-eg.com/case-studies/case-studies/subprime-mortgage-crisis.html
image: A mother and child stand near a mobile banking vehicle in the village of Michinji. Opportunity International is helping to deliver financial services to people in Africa isolated from traditional banking systems. Access to services such as mobile banking can help the poor build a safety net for the future by giving them the financial tools necessary to start or expand a business, save money in a safe place, and invest in their communities by creating jobs. Lilongwe, Malawi, 2008. (credit: Gates Foundation, Flickr Creative Commons)